Today I want to share with you a delicious lobio cooking recipe. I got this recipe along with a new slow cooker. It was printed in a recipe book.
I liked this recipe for its unusual, because once I cooked lobio, but without chicken and without using apples. In this recipe, these products were, so that interest increased every day.
And so, the day came when all the products that are needed to prepare the dish appeared in the refrigerator. As a result, for lunch we had a new dish, which was pleasant for its piquancy and a good combination of tastes. And this lobio is quite a hearty dish, so even the husband was satisfied.
To prepare lobio in Brazilian the following products are needed:
I soaked the beans for 12 hours before cooking. This should be taken care of in advance, since it is more difficult to work with dry beans (it boils longer and can be boiled soft as a result at the end of cooking).
Before cooking, wash the beans and pour clean water 3-4 cm above the beans themselves. We send it to cook on the Quenching program 1 hour before half ready.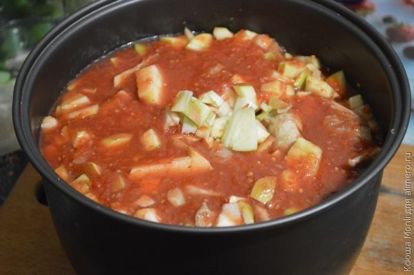 We send the bowl to the slow cooker. Turn on the Quenching program for another 1 hour. During this time, all products will have time to prepare, exchange tastes and aromas.
The finished dish served to the table hot.


Enjoy your meal!