A tasty vegetable is beetroot, but the dishes that I cook with it are very limited, the most traditional ones: herring under a fur coat, vinaigrette, borscht, and a couple of salads. Carried away by French salads, I noticed that beetroot is very often used there, and the root crop itself is also taken, and the beetroot – chard.
With the advent of hypermarkets in our city, very many products became available that I had previously only read in foreign recipes, in particular, salad greens of all kinds, including chard, a subspecies of beet, which uses the leaves, not the root.
In general, such a beetroot from the French represents a lunch dish. Probably, our men are unlikely to understand such a meal without meat, but they won't refuse to try a snack or a side dish, though a bit unusual.
I really liked this salad, I am ready to eat it by itself, it seems that the dish is quite simple, but I would say that in French it is delicious.
Ingredients: 2 medium beets, 1 handful of chard (40 g), 30 g butter, 1 onion, 2 tbsp. white wine, 50 grams of cheese, parsley or dill.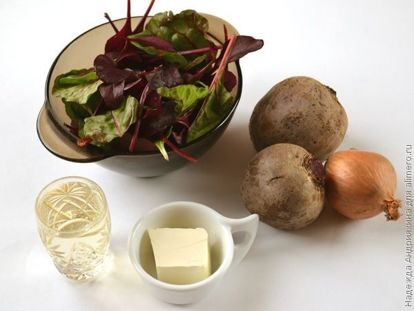 Finely chop the onion. The French use shallots, not onions. It is less pungent and delicate in comparison with the latter, however, their chemical composition is identical, therefore one can proceed from the presence of one or another species.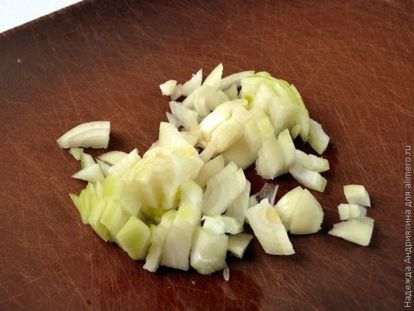 Mix onion in butter in a frying pan.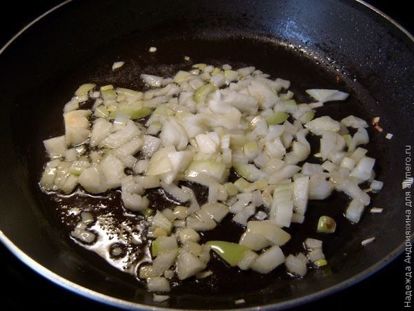 Peel raw beets, cut into thin slices. Larger beets can be cut into slices no more than two millimeters thick.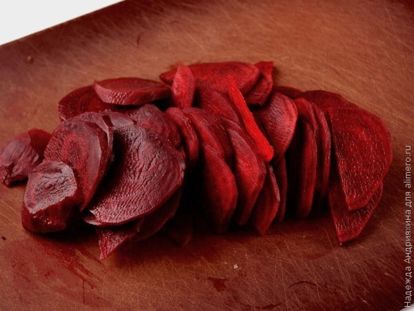 Add the beets to the onions and fry for 15 minutes over low heat.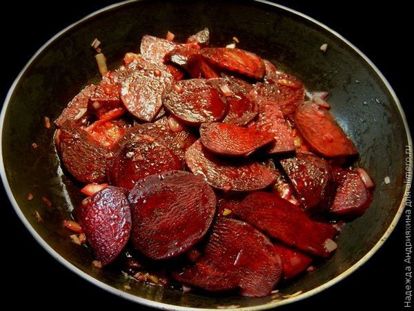 Then pour in white wine, dry or semi-sweet, stew the beets until soft on a small fire under the lid.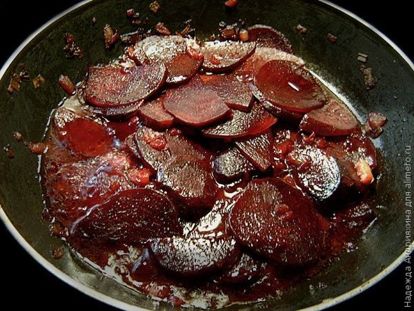 At the very end, add chard leaves (larger ones – tear them into pieces), mix and hold for just a minute.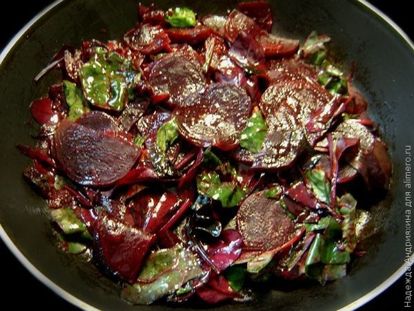 Putting beets in portions, sprinkle with thin slices of hard cheese and parsley or dill. Thin cheese can be cut with a special string cutting machine or vegetable peeler.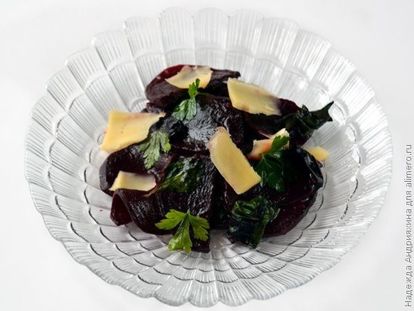 The French still love to sprinkle crumbled goat cheese and serve this beetroot with a baguette, and we can with our white bread.
Surprisingly, the salad turns out to be unusually tasty, after stewing in wine and in combination with additives, the beets acquire a surprisingly delicate and completely new taste.