As it should be for the holiday, I decided to cook something new, interesting and unusual. In the meat department, the choice fell on an excellent fleshy ribbon of pork ribs. Ribs, so ribs.
Since I do not cook them often, I don't have a recipe as such, so I turned to Google for help. And the first recipe I was given was the recipe of Gordon Ramsay. I never cooked it according to his recipes. I somehow trust Jamie Oliver's recipes more. But this time I decided to change my rules after all. At first she was very worried, but she persistently walked towards the goal, without changing directions.
The result exceeded all my expectations. Ramzy, you are a miracle! Now I take a closer look at your recipes.
I slightly changed the recipe for myself, but I think it didn't affect the taste and appearance of the dish.
To make pork ribs using the Gordon Ramsay recipe you will need the following products: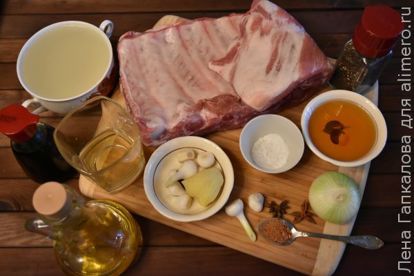 Degree of difficulty: average
Time for preparing: 2 hours 30 minutes
Pork ribs wash and pat dry with a kitchen towel. Salt and pepper with freshly ground black pepper. Ribs can be pre-cut into portions, and you can bake a whole ribbon.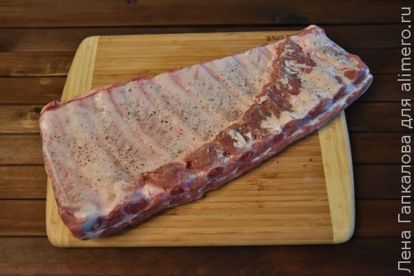 Pour vegetable oil on a baking sheet and heat it. Spread ribs and fry on all sides until rosy color.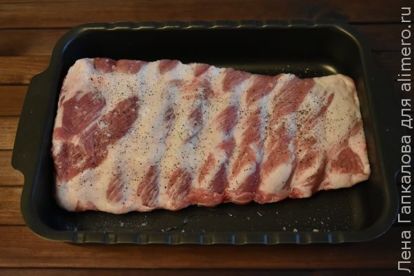 Peel and chop ginger and garlic.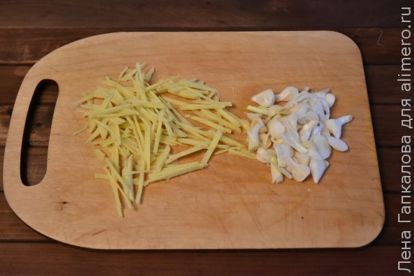 Put the garlic and ginger on the ribs. Add chili pepper, pink bell pepper and star anise stars.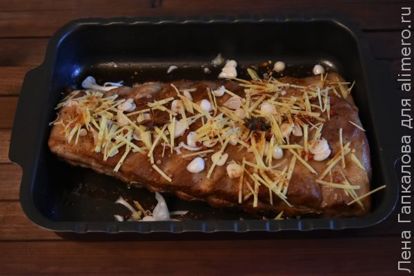 Continuing to fry ribs on a baking sheet, pour in honey. As soon as the honey begins to caramelize, pour in rice vinegar, soy sauce and broth. Try the sauce to taste, you may need to add more sour or salt.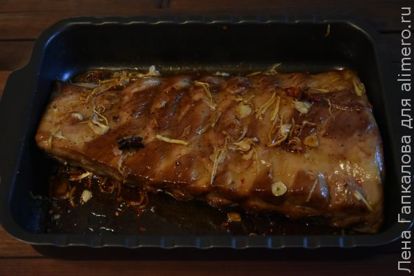 Cut the onion into arbitrary slices and lay out to the ribs.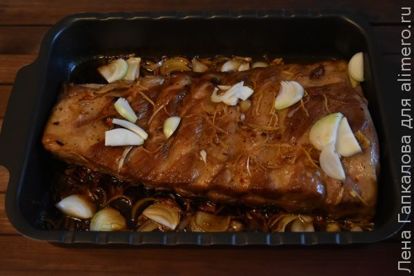 Put the baking tray in the oven preheated to 180-200 degrees for 40-60 minutes. After this time, turn the meat over and send to the oven for another 40-60 minutes. During this time, the meat will acquire a varnished ruddy crust.
Before serving, dip the meat several times from all sides into the resulting sauce. Put the rest of the sauce into a sauceboat and serve it to the meat too. Ginger, onion, garlic in it boiled soft by mixing all tastes. The taste of the sauce is sweet and sour with a spicy spiciness and aroma of a badian. It is possible for uniformity to slightly pierce the sauce with a blender.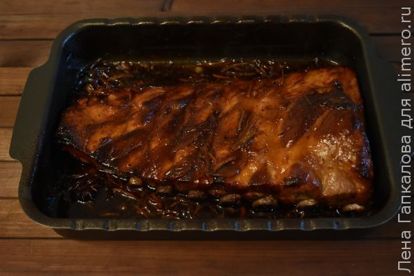 The meat is surprisingly tender, juicy and fragrant. Try to cook pork ribs for this recipe, I highly recommend!