Baba – my favorite treat since childhood! I remember going with a friend to a nearby store and recruiting them immediately for the whole family. And then with pleasure they drank tea with them.
I liked this pastry due to the fact that, thanks to the rum of the woman, they were tasty, soft, fragrant and not dry.
So I decided to please my loved ones by preparing such a dessert. For rum women, in essence, any shape for cupcakes will do. And if there is none, then you can use a larger one, however, it will be more difficult to soak the finished baking well with syrup.
Ingredients for the dough:
Ingredients for syrup:
* I didn't have any rum, I replaced it with an alcohol tincture of red mountain ash cooked at home. So … I have succeeded, rather, the rowan women 🙂
Ingredients for the glaze:
– 2 egg whites (from eggs used in dough)
At first, I warmed up the milk a little (it should be warm), spread the yeast in it. 1-2 tsp is usually enough for 1 kg of flour. dry yeast. But then the dough should be actively raised several times, so I decided not to depart from the recipe and put as much as it was prescribed – 4 tsp.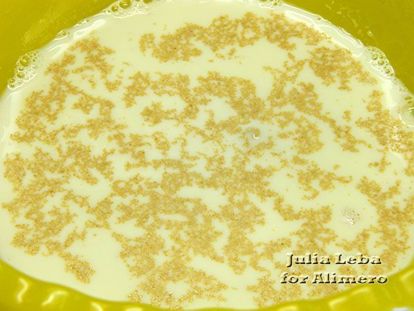 Sifted here about half the norm of flour. Knead the dough and leave in a warm place until it rises.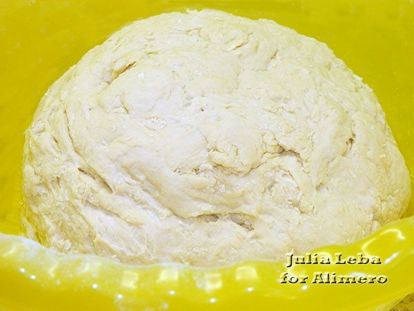 The softened butter is ground with sugar.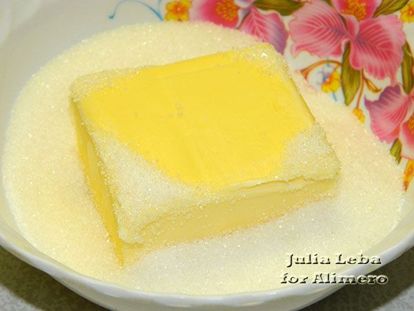 Beat up eggs, separating 2 proteins for glaze and removing them for a while in the refrigerator.
I added crushed butter to the eggs and whipped again.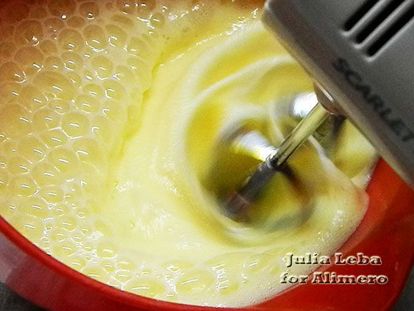 Infused the resulting mass in parts to the risen test. Vymesila.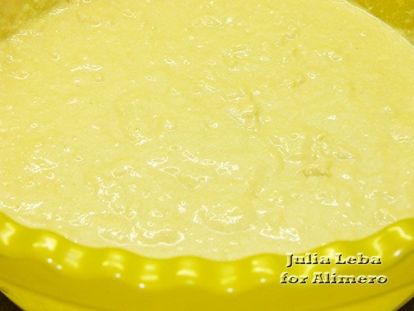 She poured the remaining flour and salt, kneaded dough that was not sticky to her hands. Put in the heat.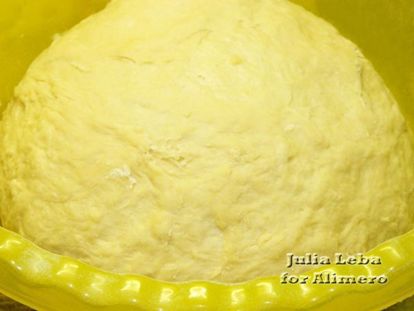 Raisin washed and poured hot water for 10 minutes.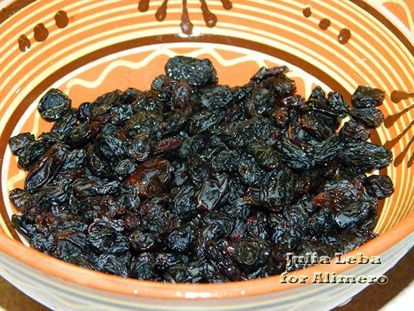 She waited until the dough doubled in volume.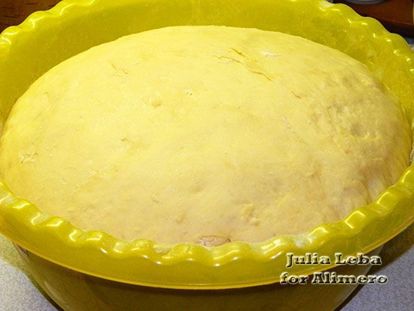 Added steamed raisins and mixed.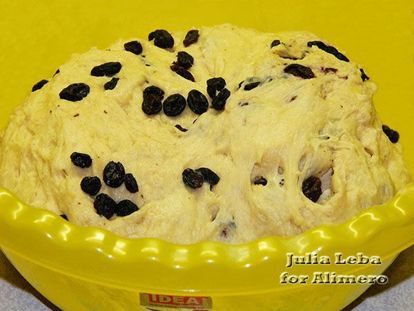 Silicone cake pans sprinkled with cold water, laid out the dough for 1 / 3-1 / 2 of the volume.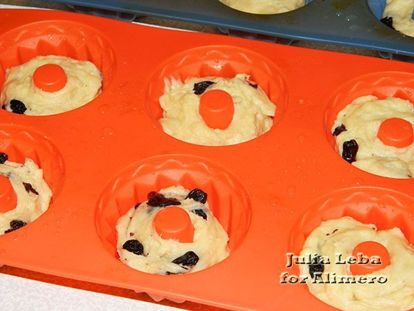 She covered with a napkin and put on proofing for 30-40 minutes. After that, baked in the oven at a temperature of 200-220'C for about 20-25 minutes.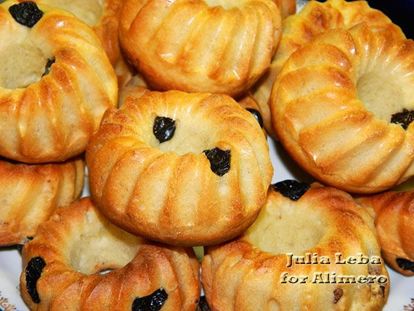 She took out the ready-made women and began to prepare the syrup. Put the water on gas, brought to a boil, poured sugar.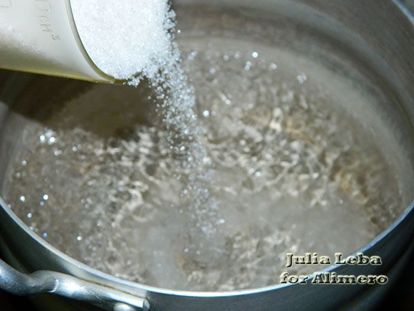 Stir and boil again. Removed from the heat, cooled to about 20'C.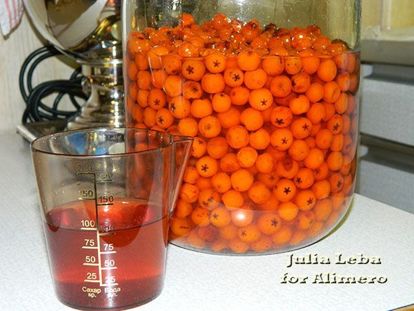 Poured her spirit tincture into chilled sweet water. Stir.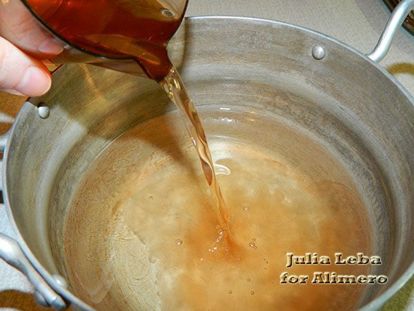 Put the women in the syrup. I kept it for 3-5 minutes on each side.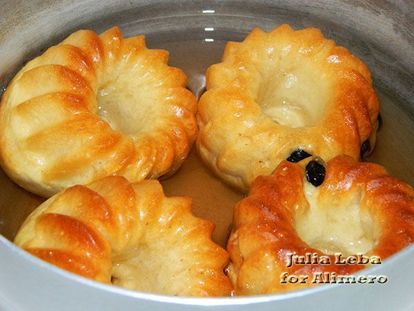 Then put them on the dish.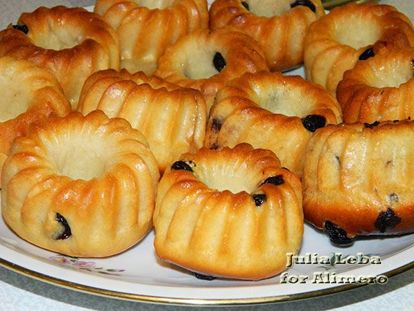 She took the squirrels out of the fridge, whipped it first without all, then adding sugar.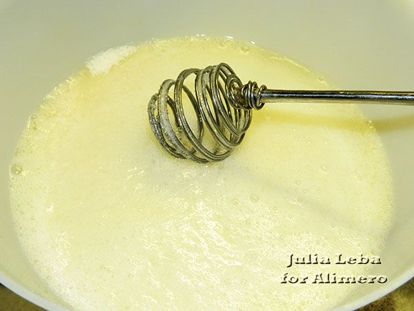 Glazed top attendants.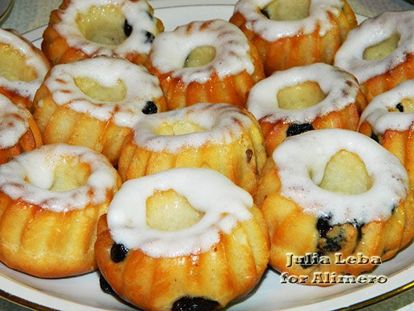 Some left snow :), some were decorated with three kinds of confectionery dressing.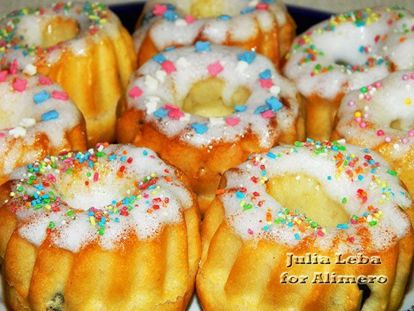 In total, the recipe takes a lot of time, but the result is worth it.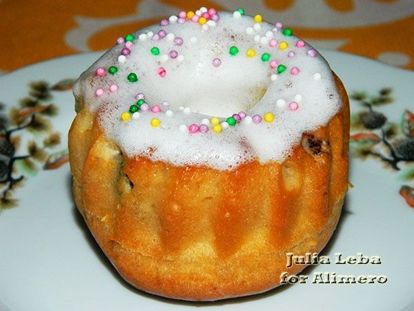 Initially, I wanted to make 1/2 of the norm of products. But when she went to cook, she thought about her and forgot about it! There were a lot of rum women 🙂 But … no trace of them was left before I thought!