Very summer, airy and unusually tasty strawberry cake! It is made without baking and does not require much time. He will surely please even those who do not like cottage cheese – here he is completely unnoticeable.
So, to make a curd cake with strawberries, we need:
For the basics:
– 150 g biscuits Baked milk (I recommend taking it)
– 75 g butter
For jelly filling:
– 1 bag of jelly for the cake (I have Dr. Etker)
– juice – the amount indicated on the bag of jelly (I have 250 g of orange juice)
– 2 tbsp. Sahara
– 2 strawberries for decoration
Active cooking time – 30 minutes.
Complexity – average.
We start with the cake base.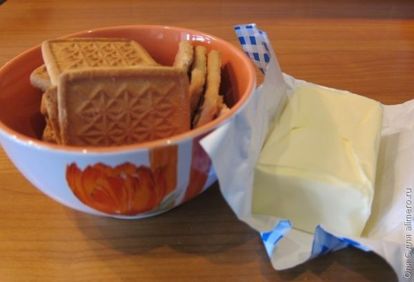 Grind cookies. Melted butter and pour in cookies. Mix the mass well, to get a homogeneous dough. The bottom of the removable form (I have a diameter of 22 cm) tighten food wrap.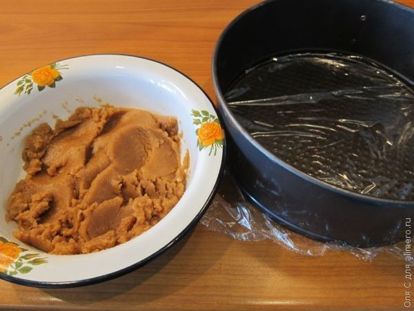 Put the dough on the bottom of the mold, smooth it with your fingers to make a thin cake. It is important that the joint between the bottom of the mold and the removable ring be closed with dough, otherwise the curd mass may leak. Put in the fridge.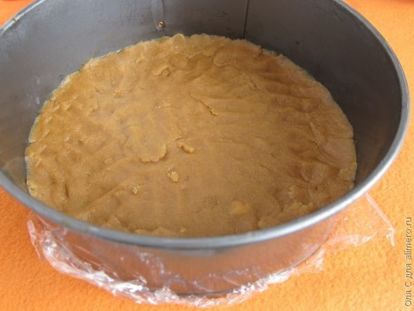 Now let's do curd mass.
Fill gelatin with water and set aside for half an hour.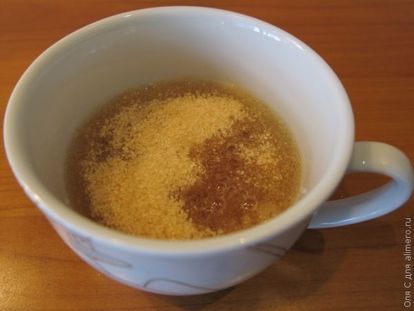 Pour 400 ml of milk into a saucepan, add sugar, vanilla and salt. We put on fire.
Immediately mix the remaining 100 ml of milk in a cup with starch and pour it into warm milk. Cook until thickened, stirring constantly.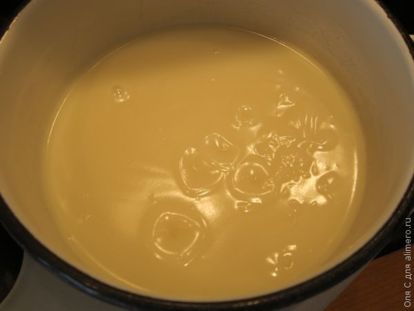 Remove from heat and let cool slightly.
The third part of the strawberry is cut into cubes and set aside.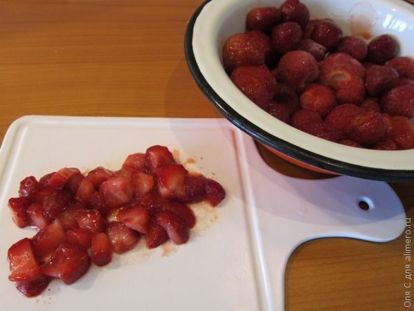 When the milk has cooled, add cottage cheese, cream and the remaining two thirds of the strawberries.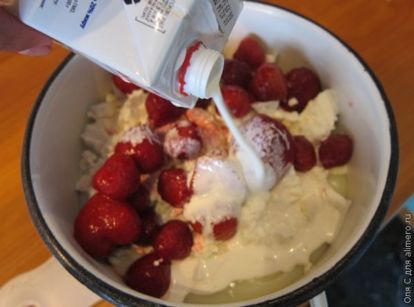 Using a submersible blender, carefully beat the mixture until homogeneous.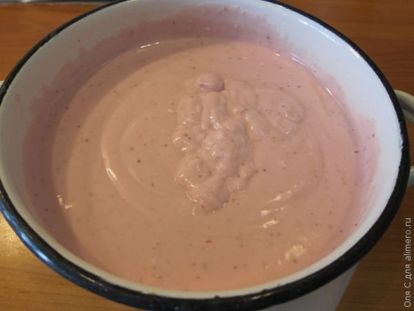 A cup of gelatin is heated (it is convenient to do this in a microwave). Stir gelatin well with a spoon so that there are no lumps, and pour a thin stream into the curd mass, constantly mixing it with a blender.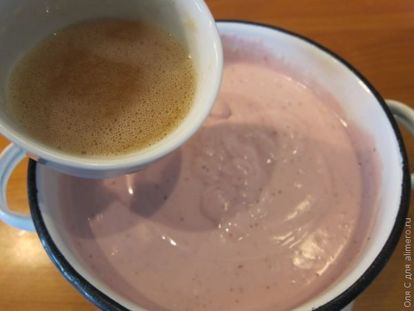 Now add to the mass of strawberries, which we cut into cubes.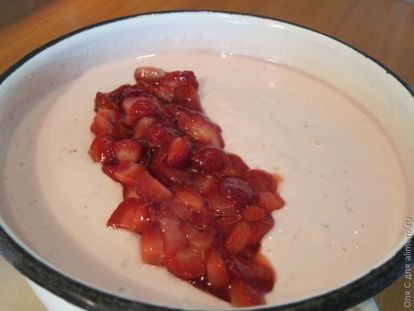 Stir the curd mass with a spoon and pour on the cake. Put in the fridge for 3 hours.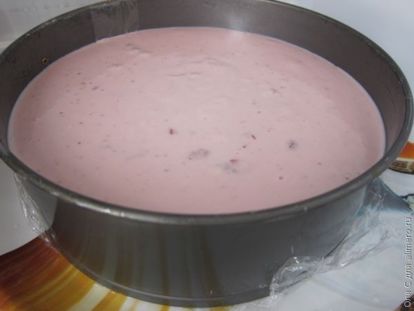 After 3 hours, when the cake is cool, prepare the jelly, as indicated on the bag. Fill the cake from above (pouring on the center) and put in the fridge for at least 3-4 hours, preferably at night. It should cool very well.
Then, gently hold a thin knife on the edge of the cake, separating it from the form, and remove the ring.
Well that's all. Serve cake should be cold.
Enjoy your meal!