This sponge cake has a delicate, finely porous structure, has a pleasant smell and taste of cream with chocolate.
To prepare it, it will take time and some skill, so this recipe is suitable for culinary experts with experience.
Ingredients:
4 eggs
100 g heavy cream
70 g soft creamy melted cheese (Almette, Hochland)
1/2 cup sugar
2-3 art. l cocoa (with slide)
about 1 cup flour
1 bag of baking powder (about 1/2 hour box)
100 g of fruit (canned or fresh)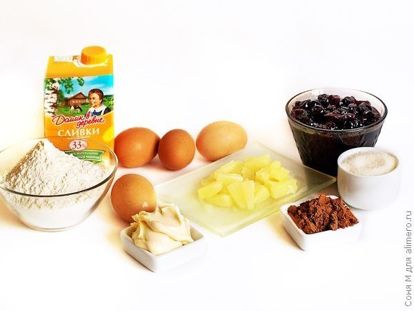 Chilled eggs break into a deep cup and beat with half the rate of sugar into foam.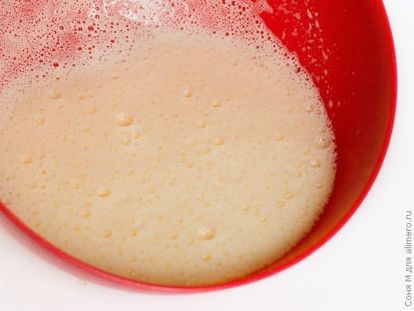 In another cup, combine the cream and cream cheese and beat with the same mixer (no need to wash the nozzles) with the remaining sugar.
Please note that if the sugar is coarse or wet, the cream may exfoliate.
For baking biscuit is not very significant, but if you whip cream to decorate the cake, it is better to replace sugar with powdered sugar, and add it at the very end of whipping, in small portions when the cream is almost whipped.
So, we get a fluffy elastic mass that does not flow.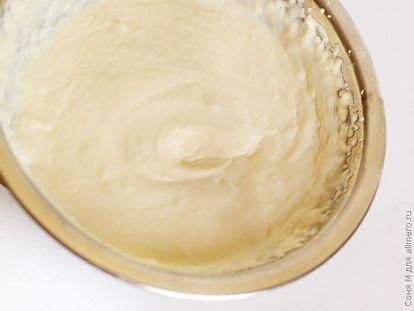 Gently combine the beaten eggs with the cream, beaten with cheese. And add flour, sifted through a sieve, mixed with cocoa and baking powder.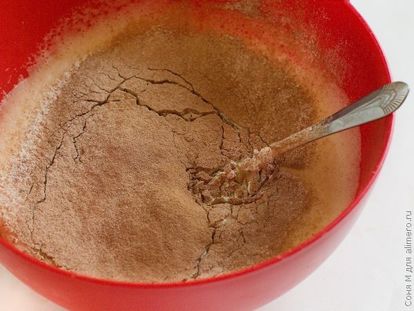 Stir gently from the bottom up so that the whipped components do not settle. Add flour in portions, controlling the consistency of the dough.
I wrote that I took about one glass of flour – in each case it is individual and depends on the quality of the flour. Try not to pour a lot – flour gives baking stiffness.
As soon as the consistency of the dough becomes similar to a thick cream, stop stirring and proceed to baking.
Lay out the form baking paper, carefully pour the dough into it, distribute with a spoon over the entire area.
Spread the fruit on the surface of the dough (I had pineapple slices and candied cherries), lightly adding them to the dough.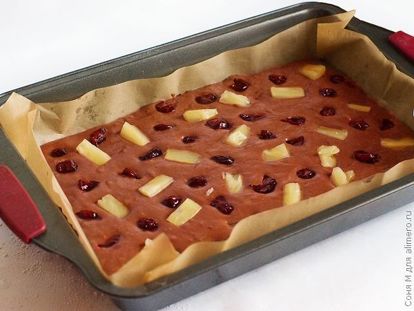 We put baked in the oven at a temperature of 170-180 degrees for about 30 minutes. Biscuit rises not very much, about half its height, so fit a shallow shape.
We check the final readiness with a wooden stick, piercing the biscuit with it: when fully prepared, the stick should remain dry.
If the fruits are light, then they float to the surface of the biscuit (I have pineapples), so you can drown them once more with a stick. Cherry, on the other hand, was rather heavy and fell to the bottom.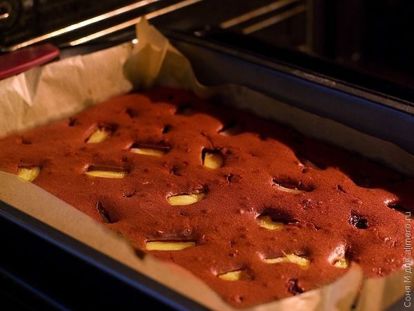 Ready biscuit free from parchment paper and cut into squares. You can sprinkle with powdered sugar on top. But even without additional decorations, the biscuit looks very beautiful and appetizing).
I hope everyone will like this delicate and tasty delicacy.