No matter how much you like to cook, sometimes you don't really want to mess around with the oven, roll out the cake layers and bake them, and nobody has yet canceled evening family tea with a tidbit of cake. I want to offer a very simple, but rather even a lazy and fast enough way to please your loved ones with delicious homemade pastries. Your attention cake orange mood.
Cakes for our lazy citrus dessert, we bake in a pan.
Ingredients are designed for 7 cakes with a diameter of 20 cm:
1 cup sugar
2 chicken eggs
1 cup of kefir
50 grams of butter and ghee
0.5 teaspoon soda
1.5-2 cups wheat flour
1 teaspoon baking spice
For custard orange cream we need:
3 chicken eggs
1 cup sugar
800 ml of milk
2 tablespoons potato starch
1 tablespoon wheat flour
250 ml orange juice
100 grams of butter
orange peel
First of all, I recommend cooking orange custard. To do this, we need to wash 2 large oranges, pour boiling water and set aside for 10 minutes. The secret is that you can get more juice from warm citrus. After time, drain the water, remove the zest from one orange and squeeze out the juice from both.
Now whip eggs with sugar, add fresh orange, mix. Combine the flour and starch, pour in the egg-orange mixture, mix again.
Pour the resulting mass into the pan with milk and set on slow fire. Add orange zest. Cooking orange cream, constantly stirring and not allowing it to boil, achieving the consistency we need. Now you can remove from the heat add butter. Mix.
Put the cream in a cold place (now you can put it on the balcony) so that it gets cold.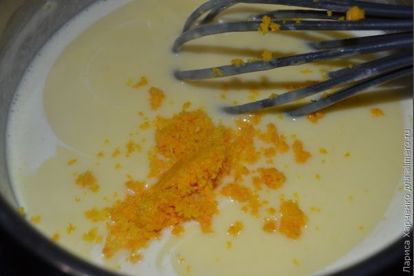 To prepare the dough for our cakes, you need to beat the eggs well with sugar, add kefir and soda, melted butter and mix. After pouring the sifted wheat flour with spices and mix again. The consistency of the dough should be similar to thick sour cream.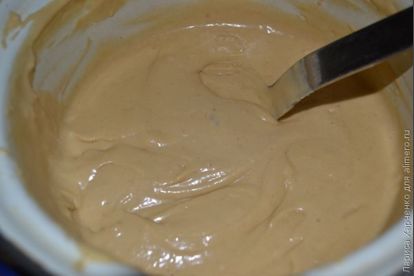 Now proceed to baking cakes. Well, dry pan need to pour 3 tablespoons of dough and smooth out. Bake the cake should be on low heat under the lid, without turning over for two minutes. The cake should not stick to your fingers.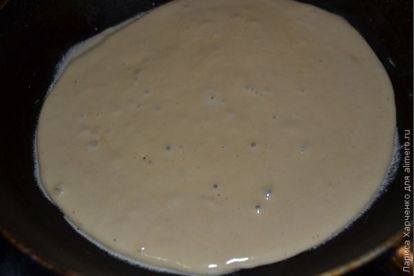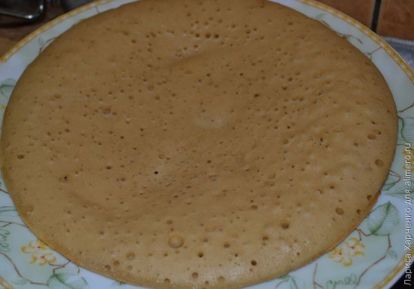 Cool the cakes.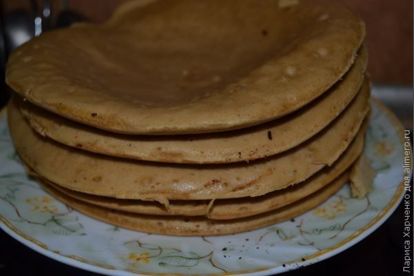 The cream is also just cool and you can collect our lazy cake.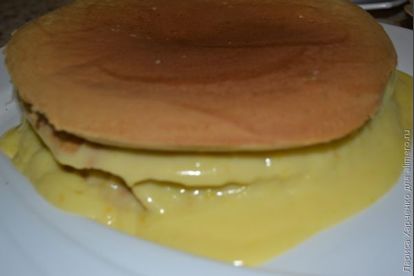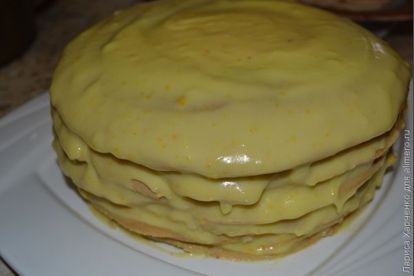 Give him time to soak, decorate at will and treat all those present.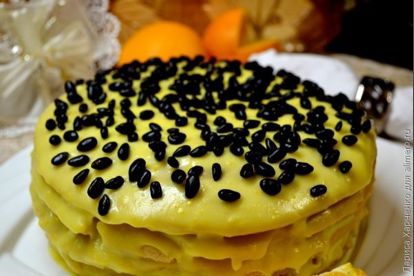 The cake is soft, delicate with a subtle orange note, and most importantly, it is not at all troublesome and inexpensive!