Fragrant. Tasty. Therapeutic. Yes, this is viburnum! Cooking viburnum jam for the winter, you will provide yourself and home with a chic cold remedy and an indispensable tool for cooking a variety of goodies. After all, tea with such a companion is always remembered.
Although viburnum is not only fragrant and tasty. This is one hundred percent fighter for our health in the winter. A cup of steaming gull with viburnum jam for a cold is the most that! And when sad or boring? This useful dessert saves uniquely.
And baking? If you cook a viburnum seedless, muffins, casseroles, etc. will be simply superb!
The only thing that needs to be done is to think about whether you will cook raw viburnum jam for the winter or it will be a winter billet with heat treatment. I decided to close it this way and that. Join now!
Cooking

Let's immediately sterilize the jars and lids. Because then it will be difficult to break away from the process. Our main task is to dry out as much as possible.
So, if we talk about raw jam, then I just cut off the berries, washed them, dried them and, rinsed with sugar, closed them in sterilized jars with a regular lid – to stand in the refrigerator.
But I will tell you about the second method in more detail. We rinse the same amount of berries under the tap or pour water in a saucepan (this is how all the dirt is best seen).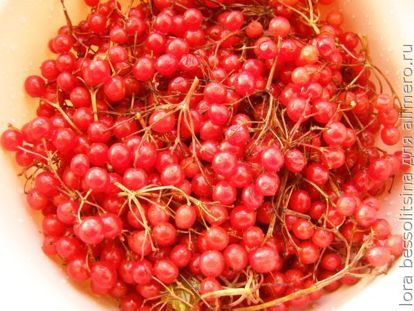 Then you need to pick berries from the twigs. We do this carefully, trying not to miss the twigs.