How nice in the morning to spread toast with delicious pear jam and drink it with hot green tea or strong coffee. Self-made jam is always more valued than that prepared in production. And jam from the fruits which are grown up by the hands is considered especially useful.
This year there was a good harvest of apples and pears, so I simply could not cook such jam.
I photographed the whole cooking process and now I will tell you this recipe.
The difficulty of cooking: below the average
Time for preparing: 2-2.5 hours
Cooking progress:

Take the pears. I used for garden jam Ural pears, which have a slightly sour taste. Good them mine. I usually do it in a basin or in a colander under running water.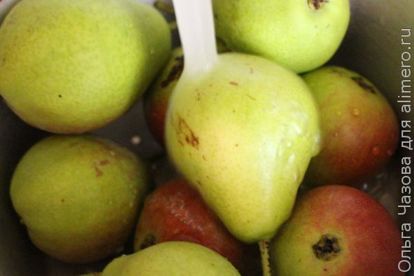 I remove the skin of pears because it is harsh. Cut pears into small pieces. We remove and discard the core with the seeds. If desired, compote can be made from peel and hearts.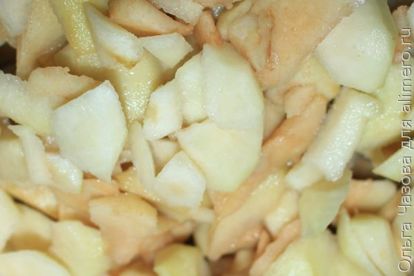 Now we need to weigh the pears in order to determine the required amount of sugar. It should be 80% by weight of pears. I got 900 grams of pears, which means that sugar needs 720 grams.
Put the pears in an enamel basin or saucepan for cooking jam. Cover them with sugar. You can even mix. And leave for 1-2 hours to stand, to stand out juice.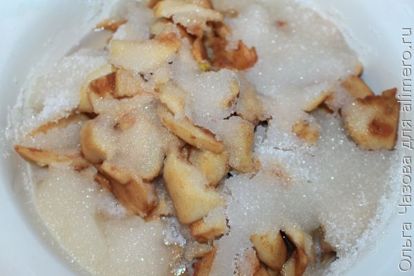 My pears were very juicy, so the juice stood out quickly, in about 40 minutes. Pears during this time allocated so much juice that it completely hid the flesh.
Now turn on the stove and bring the mass to a boil, reduce the temperature. Cook for 20 minutes. During this time, pears should become translucent. Turn off the stove and give the jam a little cool.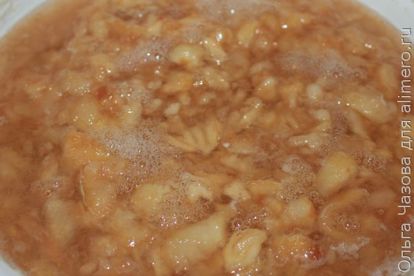 Now we take a tolkushku and well we press our pears so that they become a little puree.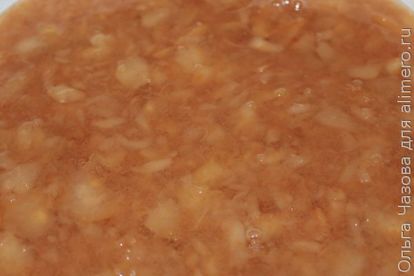 Turn on the stove and bring to a boil our jam. Again, reduce the temperature and evaporate excess liquid over low heat.
The finished jam should be thick and not spread on a plate.
Cool the prepared jam and put it in sterile jars.
To sterilize the jars, they need to be washed well with detergent. And then scald several times with boiling water or boil for three minutes in a deep pan.
That's it, jam is ready. It can be stored all winter.
Bon appetit and good mood, dear readers Alimero!