In order to drink tasty and healthy compotes in the winter, you need to take care of harvesting dried fruits in the fall. This year a great harvest of apples and pears, so I just could not make such a harvest. Moreover, dried apples and pears have a large vitamin reserve.
Apples contain pectin which improves digestion and is capable of removing harmful substances from the body – toxins and heavy metals.
And in pears, a huge amount of coarse fiber, which stimulates the bowels and the digestive tract. The pear contains potassium, calcium, phosphorus, magnesium, vitamins of group B, E, PP and other trace elements.
And dried apples, due to their high iron content, help prevent anemia and saturate the blood with oxygen. Also, dried apples contain iodine, so it is very important to use this product to people living far from the sea.
Compote of pears and apples helps to restore the water-salt balance. In nursing mothers improves lactation. It nourishes the body with nutrients and vitamins.
And now I will share with you my method of cooking dried fruits.
Complexity: everything is very simple.
Time for preparing: 15-20 minutes for preparation and 3-4 hours for drying.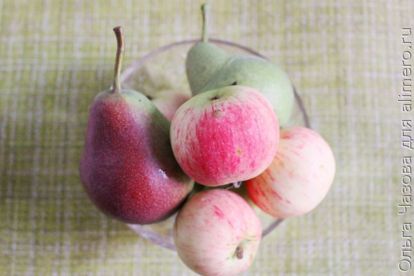 Cooking progress:
For this preparation is better to take not quite ripe fruit. This is especially true of pears, because ripe pears give a lot of juice, which prevents them from drying. Therefore, slightly unripe is best suited for harvesting.
Apples and pears are washed well under cold running water.
Take the pears. Cut them into plates with a thickness of 3 millimeters. It is better to do this with a very sharp, sharp knife.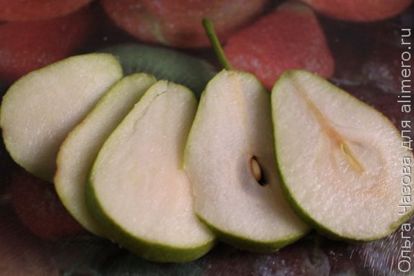 Now we take apples and also cut them into plates of 3 millimeters thick. When cutting fruit, I use a knife. But you can use a grater with a very large cross-section, allowing you to cut slices. If you have a lot of fruit, then such a grater can serve you well and will save cutting time.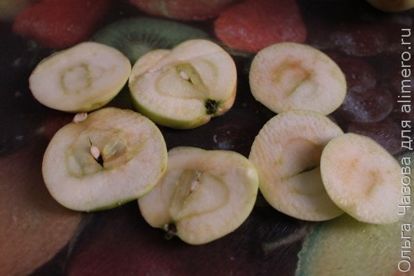 When the fruit is cut, cover the baking sheet with parchment paper. And we put our pears and apples on top. Fruits can be put closer to each other, as in the process of drying, they will still decrease in size.
Now turn on the oven at 50 degrees and place our fruit trays in it. But if you have a special dryer, it is better, of course, to use it.
Dried fruits, periodically looking into the oven. Check the degree of readiness.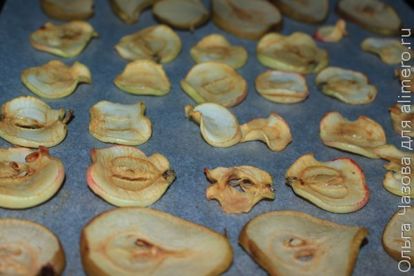 Fruits can be flipped to speed up the process.
Several times turn off and turn on the oven, giving pears and apples to dry themselves. In total, my fruit slices dried out completely in about 3.5 hours.
When the dried fruits are ready, remove them from the oven and put in storage. It is best to use paper bags or tin jars for this.