Koporsky tea is an old Russian drink that was made from fermented Ivan-tea leaves. In ancient times, fermented Ivan tea was forged expensive Chinese tea and earned it. But at that time, no one could have imagined that Ivan-tea was much superior to Chinese in its properties.
Ivan tea helps from a variety of diseases. It has an excellent anti-inflammatory effect, treats gastritis, ulcers, colitis, colds, constipation, relieves headache, has a hemostatic effect, heals wounds, improves immunity. As you can see, drinking such tea is not only tasty, but also very useful.
There are many methods of fermenting Ivan tea. Each hostess choose the way she likes.
I prepare Koporsky tea in two ways. And today I want to tell you about one thing.
The difficulty of cooking: average.
Time for preparing: 1 day for harvesting and drying, 3-5 days for fermentation and 1 hour for drying.
First we need to collect Ivan tea. It is collected from mid-June to mid-September. In a later period, the stems from Ivan-tea should not be collected, as they will dry out when dried.
So, from mid-July to mid-August, you can collect inflorescences of about 30 centimeters from the top of the plant to the leaves. But overripe inflorescences are also not worth collecting.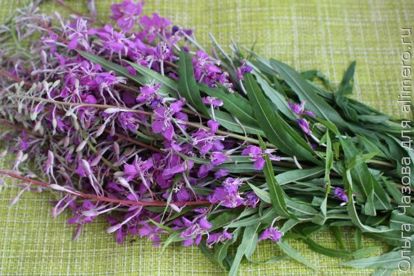 See that together with Ivan-tea not to bring home an insect. Especially beware of forest bugs. If at least one bug gets into the tea, then the whole lot will be spoiled.
So, the first stage of fermentation is the drying. We put Ivan-tea in a jar and close it with a lid for a day.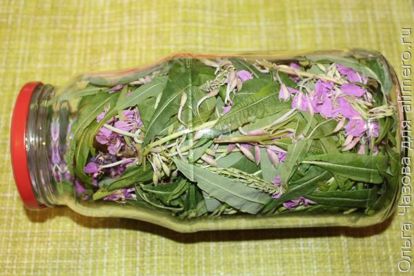 Then Ivan-tea we get and very well mnem, we twist, tear with hands. And again we put in the jar. The top of the can is covered with a wet gauze rag. Some use anolyte (dead water) to wet the cloth. This speeds up the digestion process a little. But personally, I do not use anolyte, but just wetting a rag in cold water.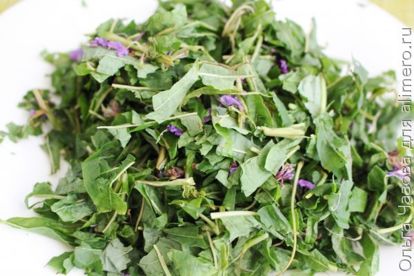 Now we remove the tea jar in a dark place so as not to fall into direct sunlight.
And so we stand from three to five days. At this time, the tea should have the smell of overripe pears and bird cherry. And the leaves themselves in the bank noticeably brown.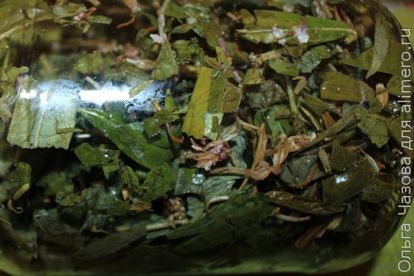 Now we need to dry our Ivan-tea in the oven to stop the fermentation processes.
Pour the contents of the jar on a baking sheet. Turn on the stove at 80 degrees and dry for 30-40 minutes.
Tea leaves should be completely dry and break well.
That's all, now you can brew our healthy Koporsky tea and enjoy its taste and aroma.