Summer is without a doubt berry time! Cherries, currants, raspberries, shadberries and other berries ripen in the gardens. Today I want to share one of my favorite recipes for making jam from irgi and cherries.
Cherry – quite sour berry. And irga sweet and fresh. Therefore, these two berries are very well combined with each other in the jam and give an interesting pleasant taste.
Usually home-made wine is made from shadberry. But I assure you, jam on its basis turns out very tasty! And to keep it longer, you can add a little citric acid.
Complexity: below the average.
Time for preparing: about 2-3 hours, along with the processing of berries.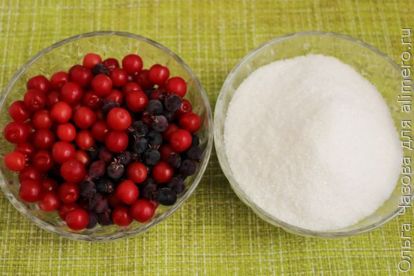 For my jam, I took a little less cherry than an irgi, but the proportions can be changed. For example, take more cherries, or both, and the other berries equally. In the ingredients, I indicated the number of products, based on a kilogram of berries. But I cooked half that amount.
We take some irgi berries, sort them out. We remove dry and badly damaged berries. Remove all the stalk. Then my berries. And put irgu in a saucepan.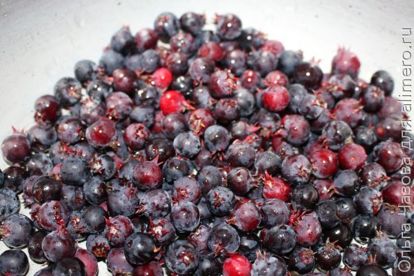 Now take the cherry. It is also good to wash it and remove the stalk. We remove bone from the cherry. For convenience, you can use a special device, and you can use a knife. Cut each berry in half and remove the bone. This is a rather painstaking process. Usually, in order to make it faster, I call someone else to help me, because the two of us get much faster.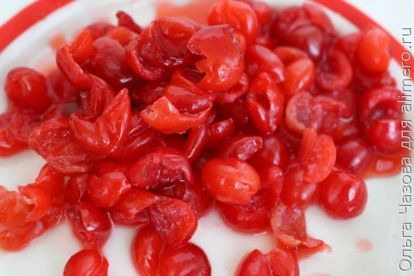 Put the cherry to irghe.
Fill the berries with sugar. We give them a little to stand, to give the juice.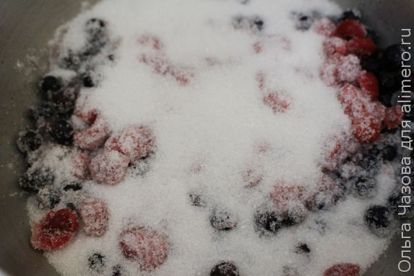 Now we take a wooden crush and we press our berries. Spoon for mixing berries is also better to use a wooden one.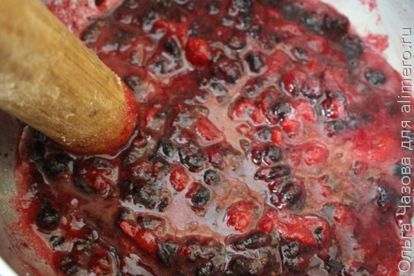 Then add water to the saucepan – enough water to cover all the berries.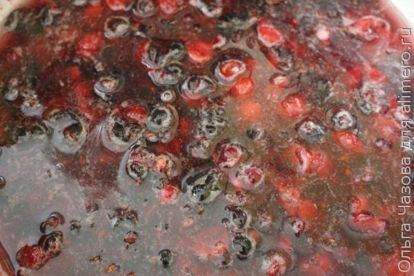 Turn on the stove and bring the mass to a boil. Stir periodically. If there is a foam on the surface, then it is better to remove it.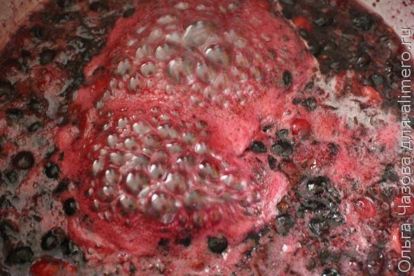 Reduce the temperature, boil the jam over low heat. Usually this process takes 30-40 minutes. Readiness jam can be checked by dropping it on a plate. If the droplet does not spread, then the jam is ready. Before the end of cooking add a few crystals of citric acid. Stir. Citric acid allows you to store jam much longer.
Give the jam to cool.
Sterilize the banks. For this, the jars and lids should be well washed and rinsed with boiling water.
Spill our jam in jars. Enjoy your meal!