The season of ripening autumn pear varieties in cellars and basements continues. At first, the child ate fruit with pleasure, a little later his appetite subsided, and now he refuses the vitamin delicacy altogether.
So I decided to eat pears in another, new light – I cooked emerald quick jam with pears and kiwi, seasoned with lemon juice. Now, the jam has become a new highlight of the winter table, recalling with its greenish color that there will soon be spring again, warm and beautiful weather.
To cook one portion of jam, we the following products are needed:
I used to make pear jam without using kiwi. The taste was interesting, but lacked visual appeal. So Kiwi fruits rich in vitamin C help me out – the taste is pleasant and the color is beautiful.
If you throw more kiwi than pears, then it will be kiwi jam with the addition of pears, but the color will turn out to be saturated emerald.
Today weCooking Pear Jam.
First you need to wash pears and kiwi.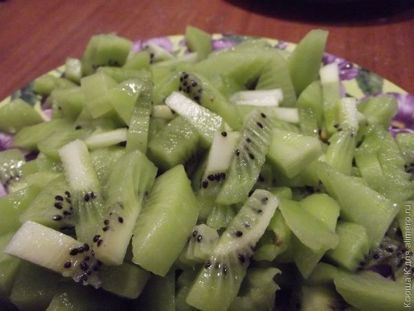 Pears cut the core and cut them into small squares.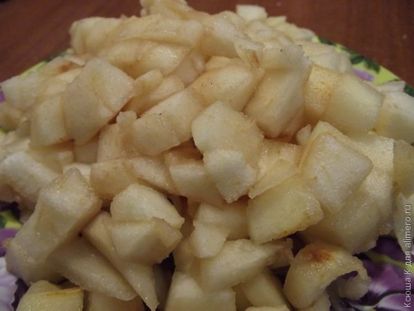 Mix pears and kiwi together, squeeze the juice of half a lemon and pour sugar.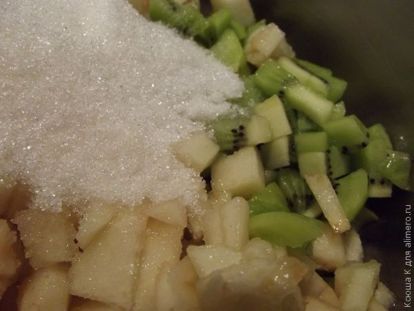 Cook after boiling for 10-15 minutes (depending on the ripeness of pears and kiwi fruit: the more ripe the fruit, the less time it takes to boil in the syrup).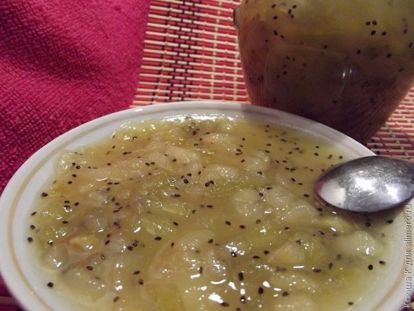 It turns out tasty sweet and sour green jam. This jam is rich in vitamins, of which even less than in ripe fruit.
The main thing is that for my child this jam has become an excellent substitute for sweets and chocolates, in which it is difficult to find vitamins and something useful (in the modern conditions of making sweets in factories).
I hope my recipe is useful to you! Bon appetit =)
How do you make pear jam? What are you doing (adding) to make it more saturated taste and color?