Hello, hostess! Do you know how the Moroccans smell in the kitchen at lunch? If you do not know – I strongly advise you to look at this recipe. And in taste, and in flavor, this is a true oriental dish that is unusually interesting in combination with lemon and olives. Prepared for one or two, and the ingredients do not need to seek out throughout the city.
I especially recommend Moroccan chicken to lovers of sour. Because in the end the dish will have an interesting taste with sourness, not overlapping the main flavor of spices and olives.
You can eat this dish directly with your hands, in Moroccan style. Dip slices of bread in rich sauce, grab an olive and a piece of chicken. Mmmm … Do not believe it, but now I look like Pavlov's dog :))
Let's proceed!
Time for preparing: hour and a half.
List of required products: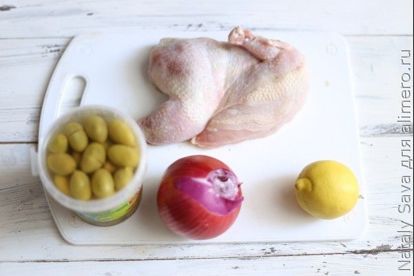 I use traditional spices, but you can experiment and add, for example, a little curry. It is important not to overdo it so that the curry does not clog the aroma of all other spices.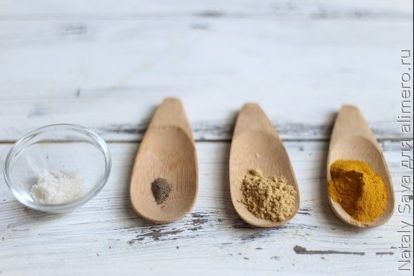 Start cooking:
We clean the chicken from the skin, cut off the tails of a lemon, and clean the onions. In the photo I have a red onion, it does not matter. In the taste with the usual onion there is no difference. Tested by experience;)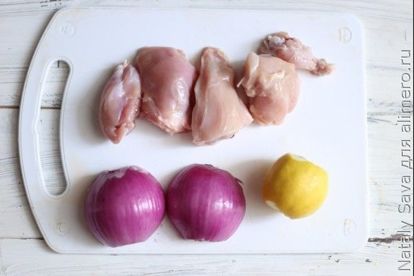 Cut the onion into half rings. This is to make it easier to fish in the sauce ready meal.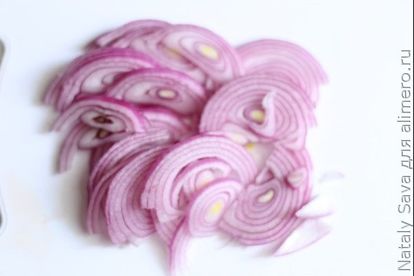 Lemon peeled, cut into rings of a thickness of 2.5-3 cm. This is Important! Otherwise, if the lemon is thinly sliced, it will soften and catch it already in the finished dish will be very difficult.


Mix all ingredients: chicken, onion, spices, olives and salt. Put it in the pan. Leave a lemon on top.


Leave to simmer on low heat. Cover with a lid.
Within 10-15 minutes, chicken, olives and lemon will begin to give juice. Therefore, immediately there is no need to add water. But as the juice starts to boil, add water.
The level is 3 cm below the upper layer. Then, cover with a lid and continue to simmer.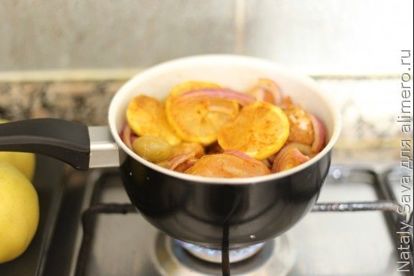 That's what I got on the way out. Aroma to the whole kitchen! And nevertheless I am a fan, an adept and (already practically) Jedi Moroccan cuisine.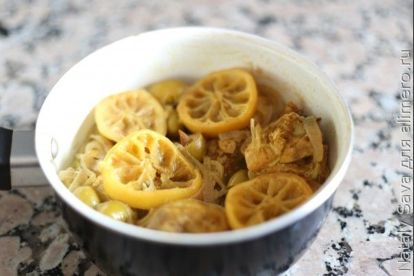 For serving, I always use a large, not very deep plate. We are already accustomed to eating Moroccan dishes from the same plate. Kids like it!
And mom – less dishes to wash.
I am sure that your household will like it.
Warm greetings from Morocco and wishing you enjoy your meal, Natalie Sava.