Yesterday I was cooking chicken stew with vegetables in the oven. For baking, I decided to use a glass form.
In it, not only everything turns out very tasty and juicy, but also with a closed lid a crisp is formed. What could be more delicious than soft chicken with melting skin in your mouth?
Not everyone likes the taste of broccoli. But after stewing with potatoes, spices, carrots, onions and chicken, it gets a wonderful taste. Therefore, I advise even those who do not really like her to use such cabbage in cooking, because everyone knows about the nutrients of this vegetable.
Time for preparing: 1 hour 10 minutes.
To cook chicken with vegetables in the oven, we need:
1) 2 chicken quarters
2) 2 large onions
3) 1.5 kg of potatoes
4) 450 g broccoli
5) 1 carrot
6) salt, ground paprika, black pepper and ginger
Peel the potatoes with a peeler or regular knife. Rinse thoroughly under running water. Cut into circles, a few centimeters thick. If the vegetables are large, then we cut each still in half.
Bulbs cleaned and cut into rings. We put them on the bottom of the glass form.
Put potatoes on top of the onion.
Broccoli washed, divided into florets and put in a glass form.
There we also add carrots, cut into circles.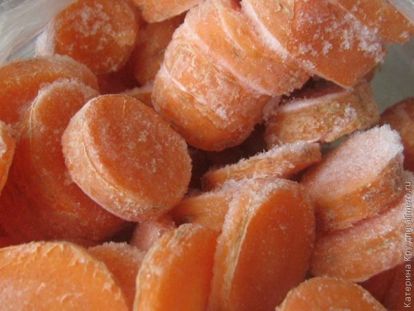 I used a young carrot that I froze a couple of months ago.
Sprinkle all the vegetables with ground black pepper and salt.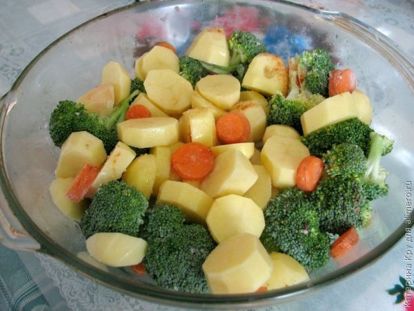 Sprinkle chicken quarters with salt, ground paprika and ginger from all sides.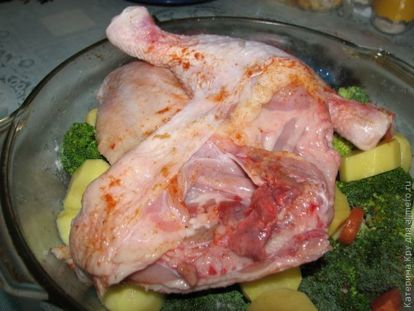 Put the chicken on the vegetables and add 150 ml of water. This liquid will be enough for cooking in a container of heat-resistant glass.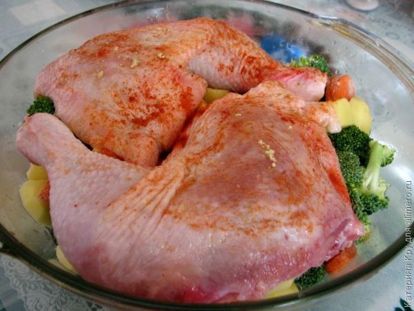 Cover the form with a lid, which is made in such a way that the liquid that collects under it will flow back into the dish.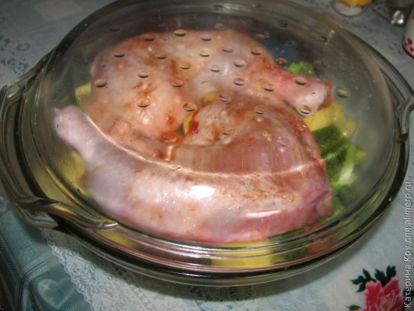 After 40-50 minutes of cooking in the oven, put the chicken with vegetables on the dinner plates and enjoy the taste!