Cooking chicken with potatoes in the oven is very simple. If you are preparing to celebrate the New Year in a large circle of friends and relatives, then this recipe will be very useful for you. Since the chicken needs to be marinated a day before cooking, before the feast it will be enough just to peel some potatoes and mix it with pieces of chicken before sending it to the oven. While chicken and potatoes will be baked, there will be time, and make salads, and touch up makeup.
Since I will celebrate with my family on New Year's Eve, I will not prepare this recipe this time. But he helped me out great two days ago. Parents came to visit us. They warned about their visit in advance. In order not to run, as if scalded before the arrival of dear guests, I marinated the chicken in mayonnaise and sauce for a day, and 1.5 hours before the arrival of my relatives sent her with potatoes to the oven.
During the time the chicken was cooked, I (as I promised you and checked it in practice) managed to smear the cake, make a salad and collect presents for parents in the gift bag. This time I bought a book for my father about how to keep the pressure in order, I ordered New Year's photos of their grandson, and also fridge magnets with his image and key chains. I hope that they will miss their granddaughter less, because sometimes it is even painful to see how grandparents care about him.
Something I got carried away and completely forgot to tell you about the most important thing – how to cook a chicken quickly and tasty.
For cooking chicken with potatoes and mayonnaise are needed such products:
Pickling time for chicken: 24 hours
Chicken cooking time: 1-1.5 hours (depending on the size of the chicken pieces)
Complexity: minimal
I think I did it all faster in my kitchen than I will describe now. To start, washed the pieces of chicken. Salted and added spices to taste.

Stir, covered with cling film and put in the fridge for a day.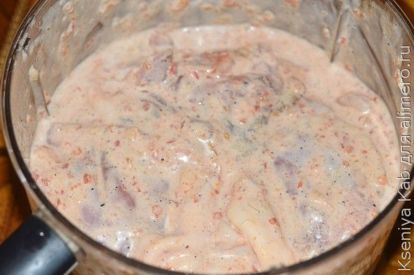 But, as they say in many cooking shows, for you and me time will fly by quickly. Day passed and it's time to peel kartohu.
Cut the peeled potatoes into 4 pieces (or arbitrarily).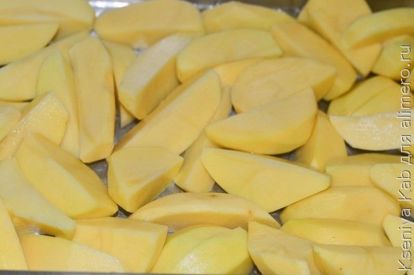 From above we throw out the chicken pieces, which in one day managed to marinate.


Mix everything on the baking sheet, slightly add salt.
We send all this mess in the oven for 1-1.5 hours. The temperature is adjustable, but it should not be less than 160 and more than 180 degrees.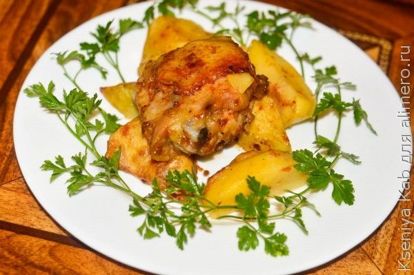 Serve chicken with kartokhoy served to the table as soon as they redden and become soft.