More recently, we were surprised at the unusual combinations of Asian food – a combination of sweet and salty, meat and fruit.
I remember how the n-th number of years ago for the first time decided to try to cook a chicken with pineapple. Unusual taste was surprised at first, and having tasted, the dish was completely loved.
Thai cuisine includes a mix of cuisines from China and India. Here, as in Indian cuisine, many spices and spices are used. Rice and chicken are considered very popular, as well as in Chinese cuisine.
Chicken fillet with pineapple can be cooked in batches,
bake in the oven and serve to the festive table. I'll cook chicken
fillet with pineapple in sauce, in a pan, and as a side dish, of course, classic
rice
For cooking chicken fillet with pineapple in Thai prepare the products on the list: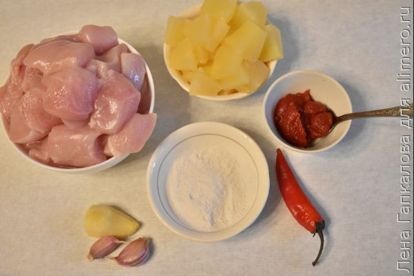 Prepare chicken fillet. Peel off films, remove excess fat, wash and dry with paper towel. Cut the fillet into slices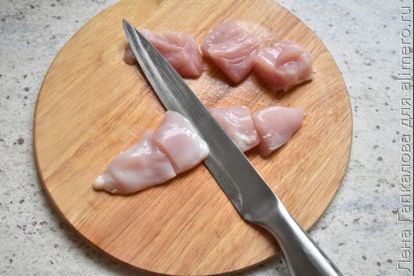 Since the pineapple is in my rings, it also needs to be cut into cubes.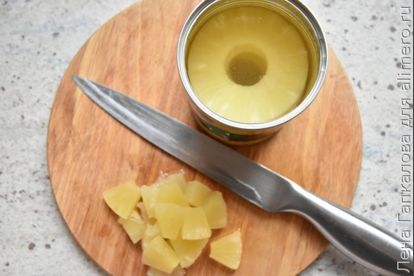 Grind red chili peppers. Take pepper to taste, being guided by its zhguchest. Since I have a very hot pepper, I took less than half.
Ginger peel and grate. Chop the garlic or skip through the garlic press.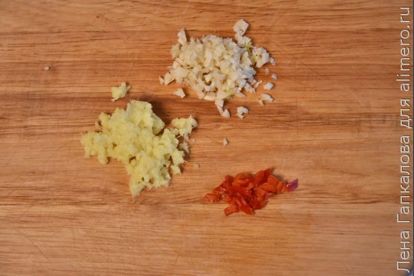 Starch can be taken any, corn or potato. Mix the starch with salt and pepper and roll in the fillet pieces. Shake off excess starch.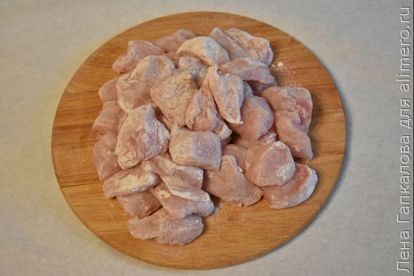 Heat vegetable oil in a pan and fry the fillet pieces until light golden brown over medium heat.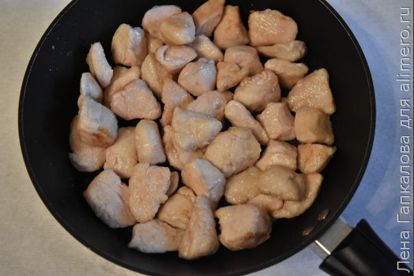 To the fried fillet add tomato paste and spices.