Fried chicken with corn is a classic combination for the cuisine of the southern states of America. This is Kentucky Fried Chicken, his mother. I have long wanted to cook something in this way, but, frankly, fried chicken breaded with corncob, generously flavored with butter – this is not exactly my repertoire. I walked, wandered around and around, hatched – and here.
I understand that if you live in the 18th century in the southern United States, under the scorching sun, if you work in the field or ride a horse every time you want to visit your neighbor, then you can afford both deep-fat and butter . But if you live at a computer, and your ultimate physical stress is to go to the store for food, then there can be no talk of any frying.
The chicken was fried, but in the oven, all its fat was drowned. Vegetables were extinguished in fat, but what they did not absorb was not absorbed. And the corn turned into puree without butter, with a minimum of cream and a maximum of milk. A lemon was generously added to the chicken, because after the heat treatment, everything that goes into this dish becomes sweet and salty, so boring and not at all vigorous. Need acid.
Corn puree is my new favorite find from now on. It is so … sunny … sweet and sweet, creamy characteristic … The cub was delighted.
Time for preparing: 1 hour 30 minutes
Vegetables:

– Crimean onion – 2 pcs.
– celery root – ½ pcs.
– ground black pepper – to taste
– carrots – 2 pcs.
– garlic – 1 head
– salt – to taste
Corn puree:

– corn grits – 1 glass
– water – 2 glasses
– milk – 1 cup
– cream 20% – ½ cup (approximately)
– salt, pepper – to taste

A bunch of cilantro and lemon (30 seconds in a micro and poke the skin with a knife, so as not to jerk and leak out slowly) sew in the abdomen.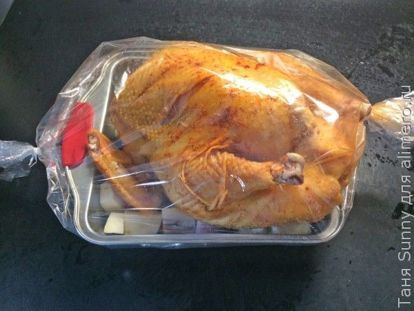 I wrap the girl in a baking sleeve and bake for 45 minutes at 200 degrees. Then I take out the bag and bake in the fresh air for another 30 minutes. Total 1 hour 15 minutes at 200 degrees.


The croup is ready. It has a delicate flavor.


Smash it with a hand blender, add cream, salt and pepper to taste.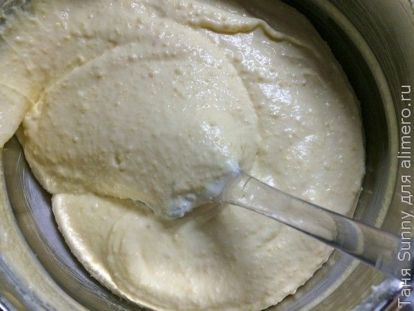 The mass should be velvet, like tenderness itself. I left some grains, however, because I am bored when there is no texture at all. But here the owner is the master.
The chicken is ready when, when it is deeply punctured with a fork, a clear, rather than pink, juice comes out of it. We all know perfectly well that a bloody chicken is extremely dangerous. I take it out of the oven, put it on a plate and let it go for a while. If I cut it right away, the juice will flow out and it will be dry. 15 minutes he walks. I take a lemon out of my abdomen and water them with vegetables and chicken. Acid fits very well all the fat.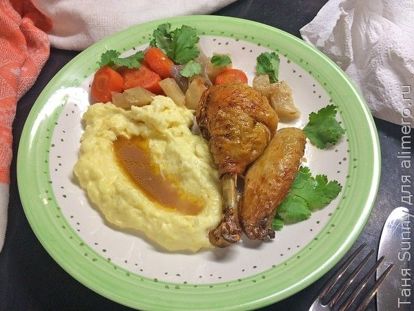 That's all. This is not very similar to Kentucky Fried Chicken, his mother, but very similar to what I will periodically prepare for my favorite people. Cheers. Life is fucking good.