Chicken in any form is good, but when seasoned with spices, it becomes especially tasty. This time decided to cook with rosemary.
Previously, only read about it. And she brought some branches from vacation and began to use it little by little.
I decided to start with chicken, and for the first time put some rosemary. There also put lemon. Again a classic. I certainly trust the classics, but decided to check it out.
Cooked chicken in the oven and immediately with a side dish, that is, killed two birds with one stone. And more useful than fried and it turned out the finished dish: chicken with a side dish.

Ingredients:
Time for preparing: just over an hour
She washed the chicken and cut it into pieces. In a saucepan mixed them with a small amount of green onions.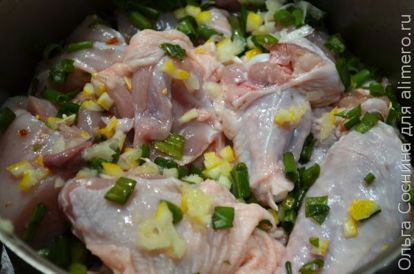 I used rosemary leaves, they are very similar to pine needles. Sprinkled them on chicken. Salt dissolved in a glass of water. In the pot with the chicken poured this brine in order to better soak the chicken with spices.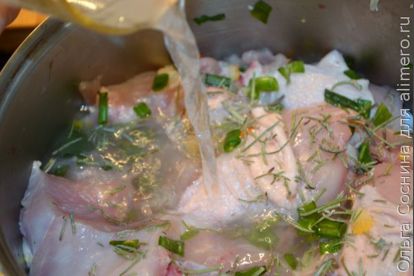 While she was arriving at the marinade, I prepared a vegetable side dish for baking.
Cabbage washed, chopped into thin strips.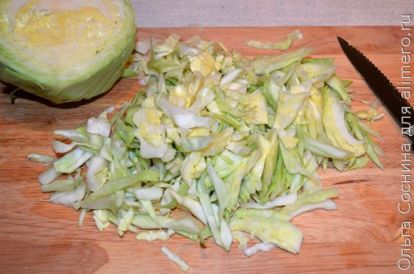 Laid out a thick layer on a greased baking sheet.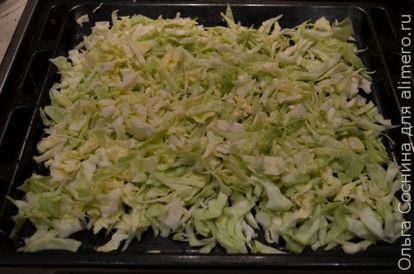 Zucchini washed, peeled, peeled the core with seeds and cut into thin plates.
The second layer is laid out on the cabbage.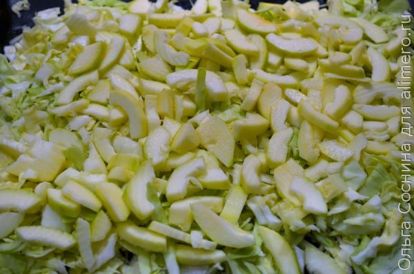 Sliced ​​some small tomatoes into halves and quarters, laid out on top of vegetables.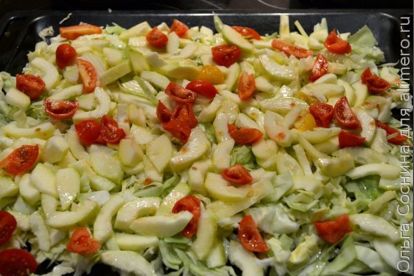 By this time the chicken was a bit marinated and I put it on top of the vegetables.
Mayonnaise, sour cream and adjika mixed.
It turned out the sauce for greasing chicken. All the pieces are missed with this sauce and put in the oven.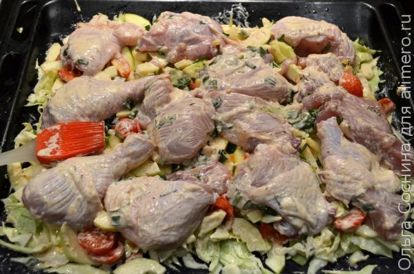 The temperature in the oven set 200 degrees. The chicken baked for 40-45 minutes, occasionally glancing. At this time, doing other things in the kitchen, and the oven made us dinner!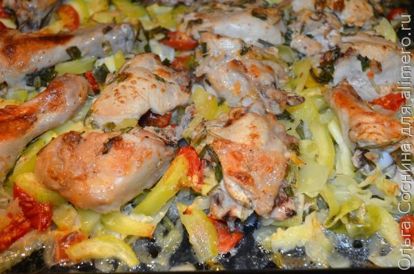 The remaining fresh tomatoes added as decoration.