Two circumstances contributed to the appearance of this dish: first, I didn't want to stand at the stove, and secondly, frozen coconut milk, which had long been appealing to stewed chicken, was waiting for its time in the freezer.
Cooked based on Thai and Indian cuisine, but without relying on a specific recipe, one can say, based on experience and imagination.
Ingredients: 1 chicken breast, 2 onions, 3 cloves of garlic, 400 ml of coconut milk, seasonings: pepper, curry, basil, 1 tbsp. frozen green peas, 1 can of corn, sunflower oil, 1 tbsp. flour.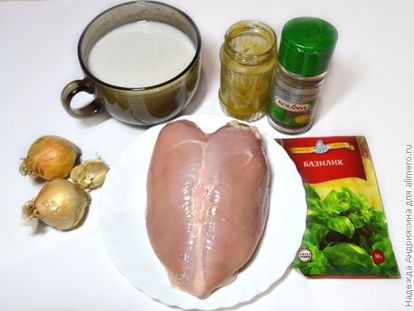 I was cooking at the Polaris multicooker. Turned on the Frying program for 15 minutes at 160 degrees. This program is prepared with the lid open so that the ingredients can be stirred. First, rounded the diced onion and squeezed garlic through a press.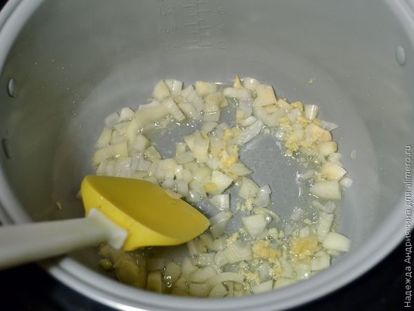 Cut chicken breast, remove bones, cut into cubes of medium size and send in a slow cooker to onions with garlic. It is not necessary to fry for a long time, just before whitening the meat and light browning.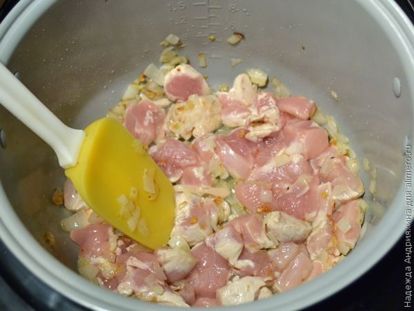 Further spices went to the pan: curry, pepper and basil. Here everyone is guided by his taste.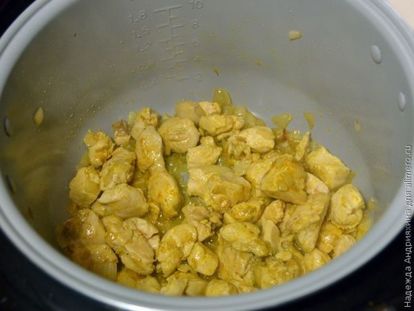 Filled the chicken with coconut milk. Unlike canned, homemade milk is not thick, like cow's, but fragrant and fatty due to coconut oil. I put the program Quenching, less than an hour it does not turn on, but the dish turns out just melting in your mouth.
Half an hour before the readiness, I added peas to the chicken (without thawing) and corn, as well as flour, lightly roasted in a pan and diluted with 0.5 cups of water.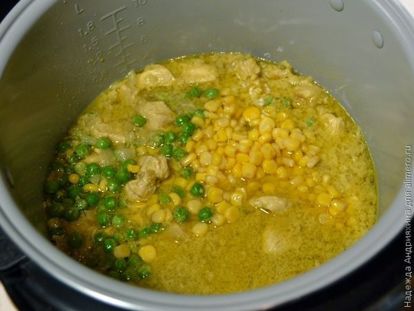 When the stewing was over, I had a fragrant and beautiful chicken in a delicious sauce.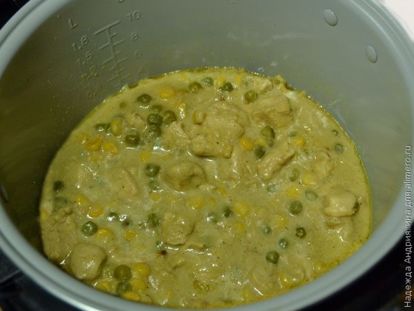 We ate this delicious chicken with basmati rice. I still have stocks of this wonderful product since visiting the Indian exhibition.