My family has some favorite chicken recipes. In the first place for many, many years is the chicken cooked on the can, the second place is occupied by the chicken stuffed with apples. Also, everyone loves meat with prunes, so when preparing a chicken this time, I decided to add prunes to apples, especially since this is a very famous combination.
Prunes have a very intense taste, but even with its excellent combination with any meat, these dried fruits should not be put too much. When stuffing chicken, prunes are mixed with other ingredients, I have apples, and there can also be offal, rice, etc.
Ingredients: chicken carcass (1.3 kg), 100 g prunes, 3 apples, 2 tbsp. sour cream, salt, pepper, Provencal herbs.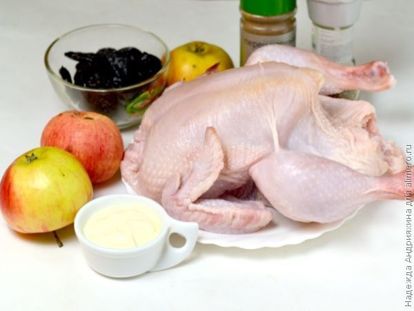 In the sour cream, add salt, Provencal herbs and pepper from the grinder, mix everything.

We wash the chicken, dry it, cut out the fat gland on the tail, smear the chicken with sour cream and spices, both outside and inside, leave for 30 minutes for marinating.

Prunes, if dry, soak in advance. I had soft prunes, so I just washed it. Mix the sliced ​​apples with prunes.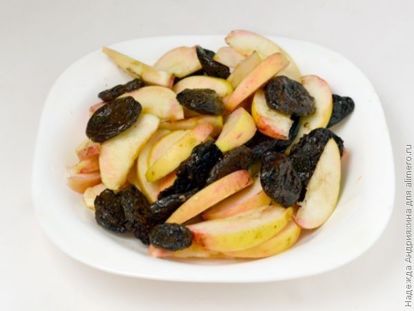 Lay the stuffing in the chicken carcass, tighten the skin and put together a toothpick.

Chicken legs are better tied with thread, I also tie a tail to them.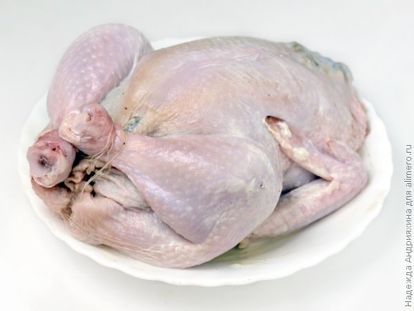 Put the carcass in a baking bag, close it with a paper clip, pierce it so that hot air comes out. We put the chicken in the package on a baking sheet or in a tray. We bake at a temperature of 180 degrees for 40-50 minutes.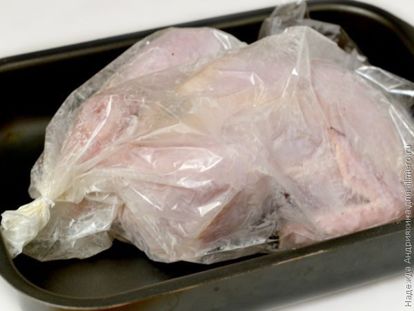 Check the readiness can be a toothpick, it should easily go into the meat.
I love the red-baked chicken, so I cut the bag and leave it for another fifteen minutes to redden the crust.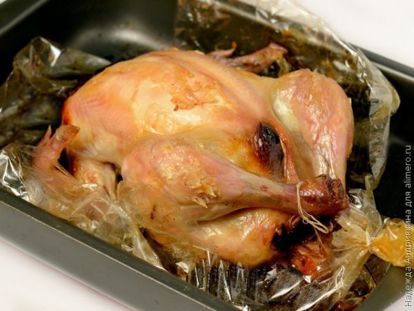 In the finished chicken we remove the threads and toothpick, put the chicken on the dish, and remove the steamed vegetables with a spoon and lay them around. Oh, and a tasty bird turns out!