The recipe for this chicken is suitable for those who are not in a hurry, because it is cooked for a long time. But I assure you, the result is worth it. It is ideal for a family dinner at the weekend, as well as for the holiday table.
Complexity: above average
Time for preparing: 3 hours
To begin with, we get the chicken out of the refrigerator, rinse well, dry it with a paper towel and leave to warm at room temperature while the filling is prepared.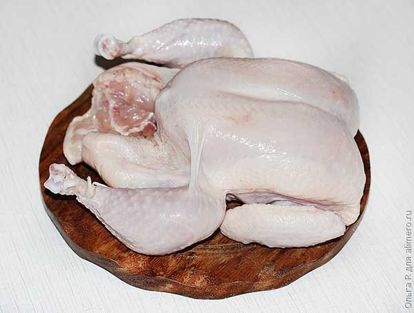 We collect the ingredients for the filling.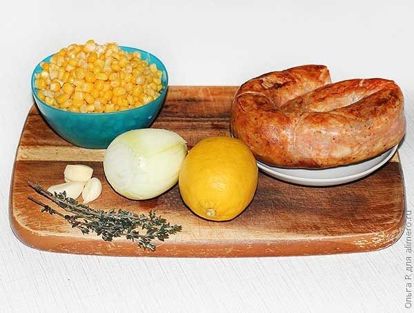 Cut the sausage into pieces and send it to a pre-heated pan – fry over medium heat so that the fat that is in the sausage begins to melt. Any cooked smoked sausage, in which there are pieces of meat and fat, will be suitable for the filling.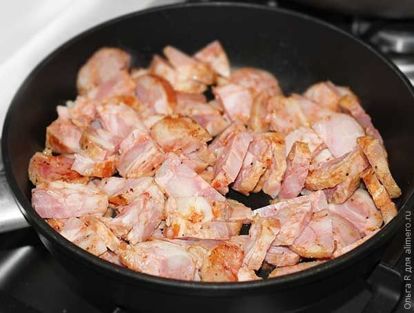 Add onions, garlic and thyme leaves from a few sprigs – the rest of the branches from the bunch will be needed later. Mix well and continue frying still over medium heat.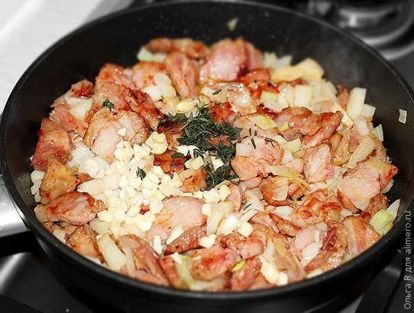 When the onions soften, add the corn. If the sausage that you decide to use is not very salty, salt the resulting mixture – this will help the corn soften a little. Fry the mixture for another five minutes and turn off the fire.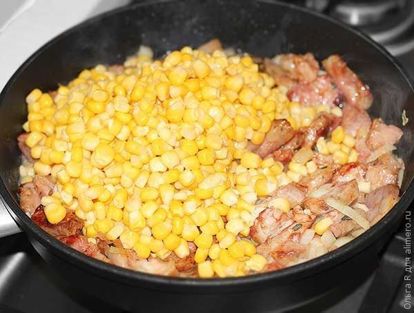 Salt and pepper the chicken inside, and only then fill it with stuffing. Fill tightly so that all empty cavities are filled – then the chicken will be cooked evenly. At the end, leave some space for the lemon, which you need to support the filling. Top with chicken watered with olive oil and sprinkle with paprika. We rub it all into her hands.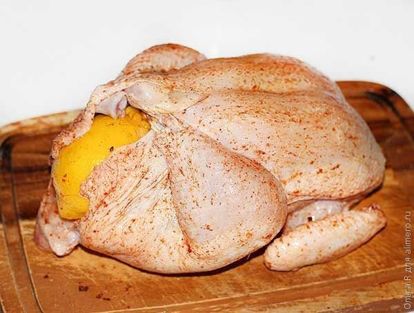 In a deep skillet with high sides, or in a pan with the same sides, put stuffed chicken. Pour wine, water on the sides and lay out thyme sprigs – the more the better.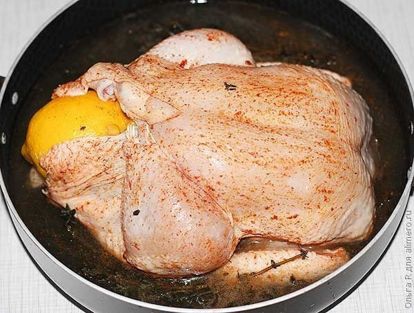 We cover the container with chicken foil (you need to cover very tightly so that there are no gaps, and the chicken is well cooked). Sent to the preheated 180 0 oven for 1.5 hours. After that, we take out, remove the foil and send it back into the oven for another 40 minutes, sometimes taking out the chicken and pouring it over the sauce so that it will brown.
When the chicken is ready (readiness is checked by a puncture in the thickest place – if a clear juice is secreted, then it is ready), we get it out of the oven. Put the chicken on a dish, take a lemon out of it, which we squeeze into the remaining sauce.
We take out the stuffing from the chicken and put it on a separate plate. Mix sauce with lemon squeezed into it and mix well and filter into a separate deep plate.