Today I want to share with you a very delicious chicken recipe. From food, I love meat the most. What could be better than baked chicken, and even with potatoes, vegetable salad and greens. Beauty!
I found the recipe for such a chicken in one wonderful forum. For the first time I tried it for this New Year. Very worried, because I only baked a chicken twice in my life, and both times I failed. Once it burned at me, and the second time it was raw. And on a holiday, waiting for the guests, I wanted to experiment. And I did it. I did not disgrace myself in front of the guests and fed everyone deliciously.
The recipe is very simple, and the chicken is very soft, juicy, aromatic and very tasty.
What we need for cooking: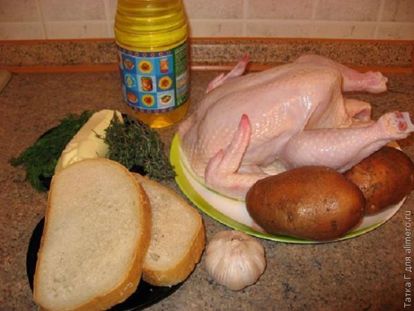 1) Thoroughly wash the chicken and let it dry, or wipe with paper towels.
2) We clean the potatoes and cut into 4 parts, if it is large, and if it is small, then it can be whole. Boil it for 5 minutes in salted water until half cooked.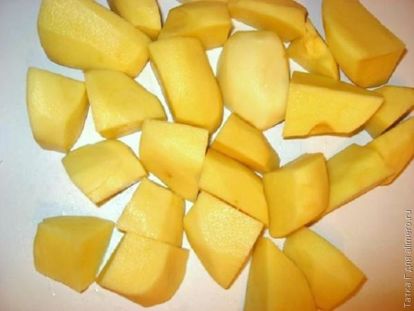 3) Inside and outside the chicken is well rubbed with pepper and salt.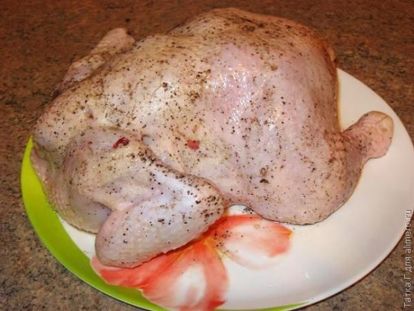 4) Peel the garlic, finely chop it or squeeze it through the garlic press. Take fresh sprigs of thyme, then the chicken turns out more fragrant, and finely chop. But you can use the seasoning of thyme in the bag.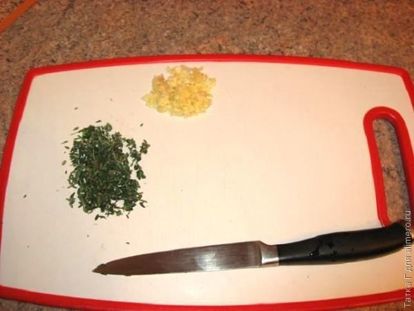 5) Take thyme and mix it with garlic and softened butter.
6) Cut the bread into small squares.
7) Mix the bread with fragrant butter.
8) Stuff the chicken with the mixture.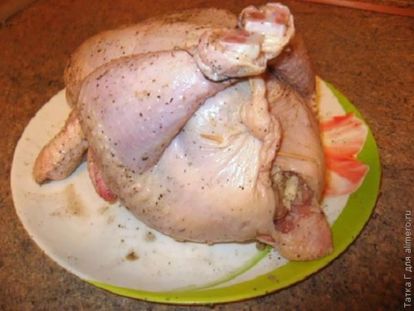 9) The hen should be laid on his back. Roll the wings under you, tie the legs with a thread. The hole through which we stuffed the chicken, fasten with toothpicks.
10) We spread on a baking tray and grease with vegetable oil. Next to the form we put the potatoes, which we boiled until half cooked.
11) Place the chicken and potatoes in the oven, preheated to 180 degrees for 40 minutes. If the weight of the chicken is more than that, then the cooking time is increased to 1 hour, and then the potatoes will need to be put 30 minutes before the end of cooking. During frying, it is necessary to water the fat that is released from the chicken.
12) At the end of frying, check the readiness of the meat. For the last 5-7 minutes, you can set the grill mode.
13) Serve chicken with potatoes, baked bread, fresh vegetables and greens.