On Sunday, we finally get together with the whole family at home and spend the whole day together. Therefore, on weekends, I try to cook something not everyday. Usually such dishes for us are homemade dumplings, dumplings, pizza or chicken baked in the oven.
This time I decided to fill it with onions so that its taste and aroma would be transmitted to chicken meat with greater force. Lunch came out on the glory! All were satisfied and satisfied. I'll tell you now how she cooked it.
Time for preparing: 2-2.5 hours (approximately).
To cook the chicken in the oven, I needed:
1) big chicken
2) glass baking dish in the oven
3) 3-4 medium sized bulbs
4) ground paprika, dried ginger, salt
5) 600 g of potatoes
I started cooking with chicken preparation. I bought it at the supermarket, so it only remained to remove the bases that had not been previously removed from the feathers in the area of ​​the tail and wings, and rinse it thoroughly.
When the chicken was ready for further procedures, I rubbed it from the inside with salt and ground ginger, and outside with salt and ground paprika.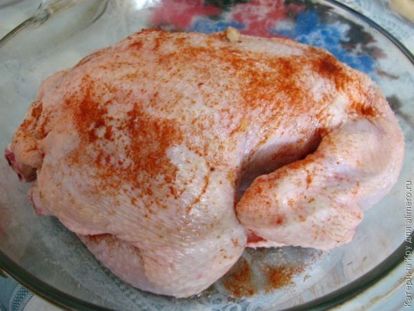 I really like the combination of chicken and paprika.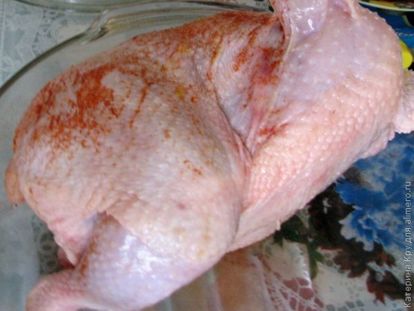 Bulbs cleaned and washed. Cut them into large rings.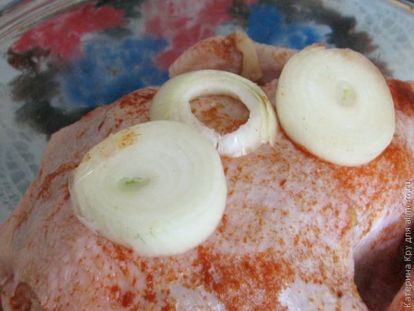 And they stuffed the chicken, which was already located in a glass form.
Since my husband gave me this form, I have baked meat and chicken only in it, and now the utyatnitsa is definitely lying unnecessarily.
I cleaned the potatoes and washed them well.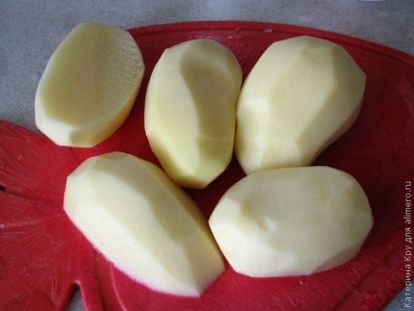 I cut it into large pieces (in the process of cooking a potato crisp forms in such a dish, and if you cut it too small, there is a risk of getting croutons or chips instead of a side dish).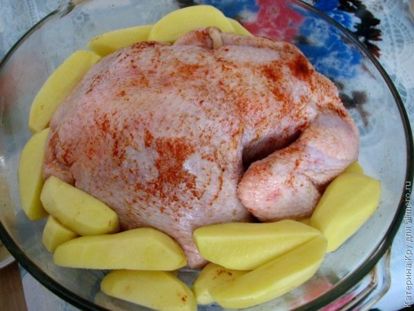 In the form of added a glass of water and put everything baked under a glass lid in the oven.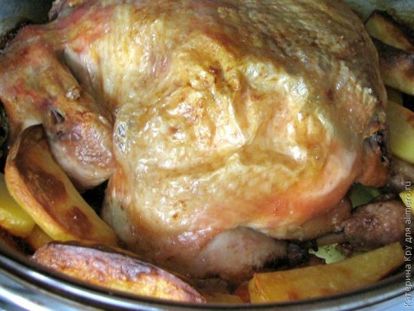 The chicken turned out to be fragrant, with a crisp crust and wonderful potatoes as a side dish.
Cook with pleasure!