Cooking chicken in the microwave is so easy that even a child can handle it. My Nazar, who will be 10 years old in a couple of days, coped with this recipe and fed the whole family today. It remains for me only to take a picture and now to sit here and proudly tell that I have already waited for an assistant.
No, my son helped me before, but a year ago, after him, there was a lot to be redone (sometimes quietly so that he would not be offended). I remember how at 6 years old he washed the dishes on March 8th. Girls, late at night, I quietly washed up the dishes that were not quite clean when my son was already asleep. Son, I understand, I did not say anything, because he tried so hard to help me. With all his open mind, he wanted to make Mom happy for the holiday.
Now the help of the son is completely different. He waters the flowers, sometimes he tries to cook something, dad washes the car and helps to fix it, and also helps with the garden, but this is another story … Today he pleased everyone with delicious chicken from the microwave. The last time I cooked, and he watched with interest. Now he decided that he would do it himself, so he tried. It was delicious!
To cook chicken in the microwave, you need the following products:
Pickling time: 30 minutes
cooking time: 30 minutes
Microwave power: 900W on grill mode
Difficulty: easy
To begin with, wash the chicken.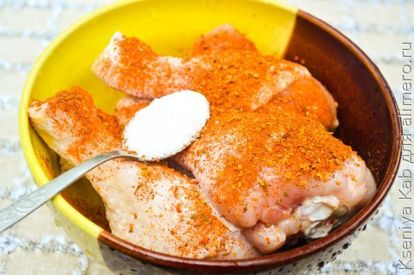 Pour some vegetable oil on the plate with the legs so that the chicken starts to blush nicely and evenly during cooking.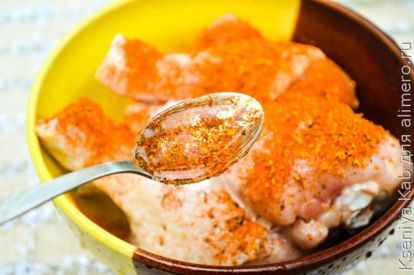 We mix everything so that the spices and salt evenly cover the legs.


Leave the chicken for 30 minutes soak in delicious spices.
After quick marinating, we send the chicken legs to the net and send it in the microwave.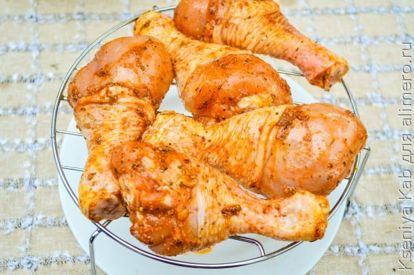 Cooking chicken on a special mode for cooking poultry. This mode cooks microwaves and using the grill. The chicken turns juicy inside and ruddy on top.
Serve chicken in the form of heat.