A chicken that is very affordable and quick to prepare can always be enriched with a completely new flavor simply by using a new recipe …
So the other day, adding a handful of champignons to a banal sour cream sauce for stewing chicken quarters, turned out to be a completely new and very tasty dish.
Everything turned out quite quickly and simply, so I'm happy to share with you, girls, all the subtleties of cooking chicken in this way.
Of course, you can use absolutely any part of the hen – thighs, legs, wings.
I had just a couple of quarters available, cutting which I got both my shins and hips.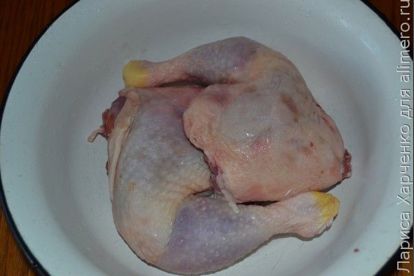 Such a quantity of chicken meat was enough for our family for a hearty and tasty dinner with buckwheat porridge for garnish and seasonal vegetable salad …
So those who are interested, kindly ask you to familiarize yourself with the simple way of cooking chicken in a creamy mushroom sauce – tender, fragrant and very, very tasty!
How difficult: very little
The time required for cooking: literally 45 minutes
Immediately I want to note that in the process of cooking chicken in a creamy mushroom sauce, we will use 2 types of dishes – a griddle for roasting chicken and cooking sauce, as well as a stewpan (or iron pot) in which the chicken will already be stewed in the finished sauce.
To begin with, lightly fry the chicken pieces in butter on both sides, and then put them in a saucepan.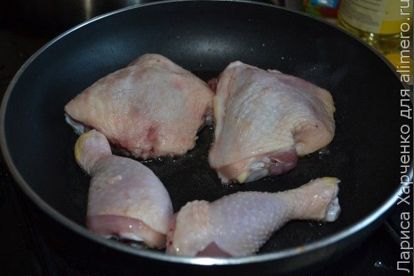 While the chicken is still in the pan, we just have time to chop the onion, garlic and mushrooms in half rings, cubes and plates, respectively.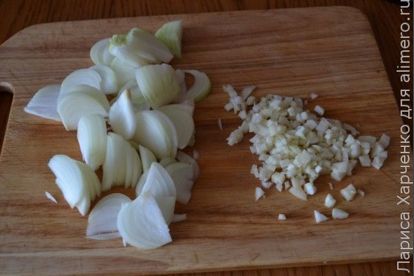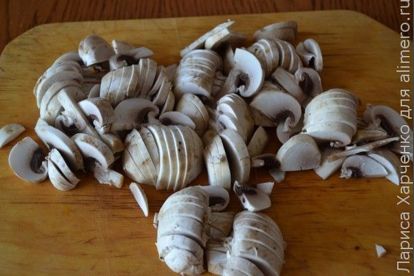 On the empty pan, greased with butter butter, we now lay out the chopped onion, and after 5 minutes and the mushrooms – they need to be fried until ready, lightly salted.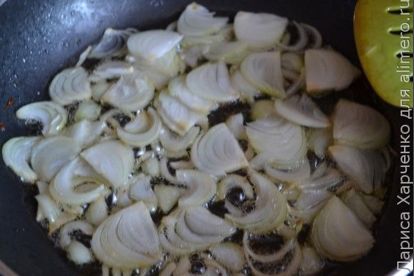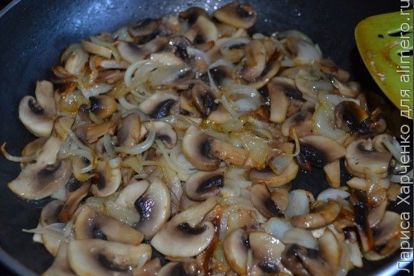 Mushrooms with onions and chopped garlic are sent to the stew-pan to the chicken, add some water and set the fire on.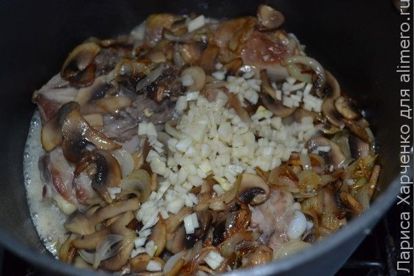 And in the pan now we melt a piece of butter, add flour and, stirring constantly, bring it to a color change (to light brown). Then add a glass of hot water (or broth) and quickly stir it so that there are no lumps left.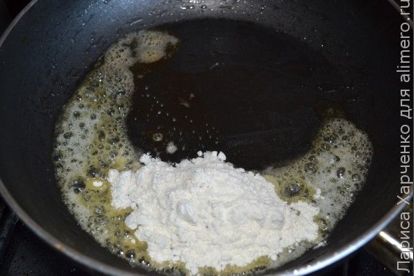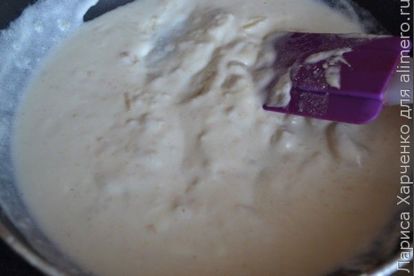 Now add salt, sour cream, spices, stir and bring to a boil.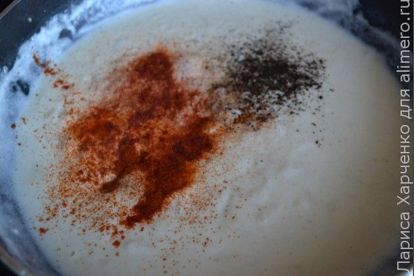 Pour chicken sauce and cook everything together on a quiet fire for at least half an hour.