Sometimes for tea you want something delicious. If I have a desire, I scrape the bottom of the barrel and bake fairly simple, but at the same time original bagels. I especially like to make them with apple jam, since we have accumulated a lot of it since summer.
Ingredients for bagels:
Cooking time – 1 hour 30 minutes.
Crumble fresh yeast. Add sugar to them.

Melt margarine to a liquid state. Let it cool.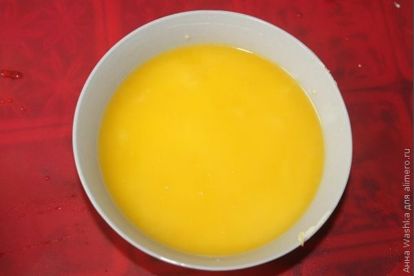 Pour margarine into dough, mix.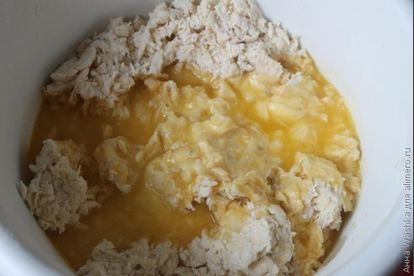 Form a bun. And put it in the fridge for 1-1.5 hours, covered with a towel.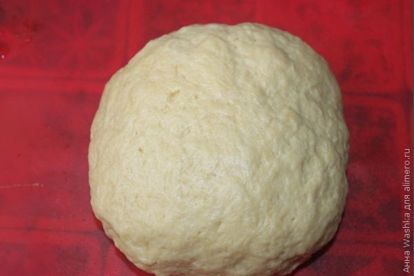 The dough in the refrigerator should ripen, that is, increase in volume by about one and a half times. We take out the dough.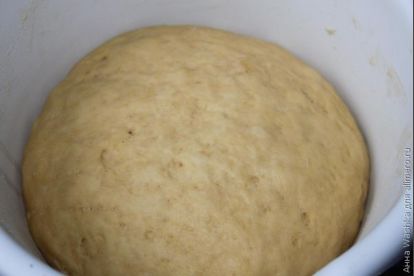 Divide the dough into eight parts. And roll each piece on the table, sprinkle it with flour. The thickness of the layer should be quite thin, about 1-1.5 mm.


Cut out the dough using a circle plate. It is better to take a plate or a dish of a large size, then the bagels will be larger and more magnificent. A big bagel, as you know, the mouth rejoices. We collect the remains of the cut dough, then we will form one or two layers from them.


Divide the circle diagonally into eight parts-cones.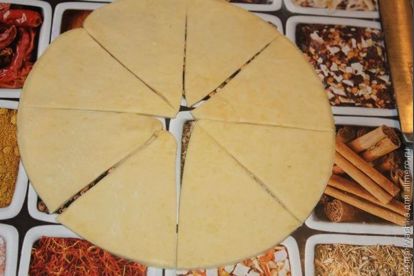 Now lay out the stuffing. I took apple jam, but you can use any other. The main thing is that it is not liquid. If the jam is too watery, it will simply flow out in the baking process.
We place the jam at the base of the cones.


Now form the bagels. To do this, fold them with one hand from the base to the top. And the edges of the bagels are slightly turned inward, making crescents, as it were.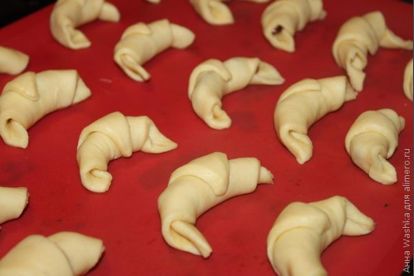 Put the bagels on a baking sheet. It can either be smeared with margarine or lay out baking paper. And I used for this purpose a special silicone mat, on which nothing burns.
We grease bagels with milk. You can also grease them with either sweet tea or sour cream.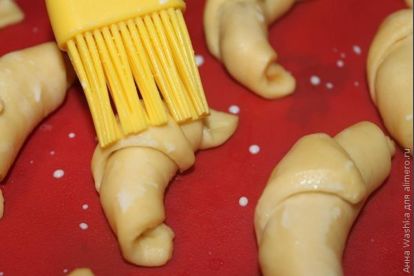 Send bagels to the oven (150 degrees) for 30 minutes.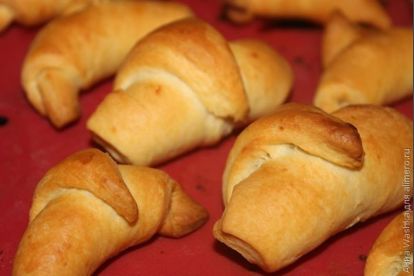 Before serving, sprinkle bagels with powdered sugar through a small strainer.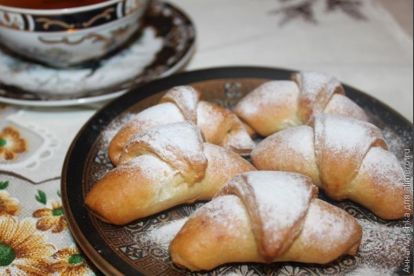 A delicious snack for tea is ready!