Last week I told you about the wonderful cake recipe. From him I have left a little cheese and ham. Make them sandwiches was a pity. This is one tooth. I wanted to do something interesting with them. And I decided that it would be bagels.
Bagels are a pretty interesting thing. This baking stuffed inside. They are good, both sweet and salty. They are beautiful and they are not ashamed to serve.
With yeast dough, I made friends not so long ago. But I can say for sure that I fell in love with him. I always get it, and it's a pleasure to work with him. Delicious pies, bagels, rolls can be made from yeast dough and they always turn out to be lush and tasty.
I really like the fact that yeast dough can be stored in the refrigerator and used for three days. So, if I didn't guess the amount, and the dough was left, then all I need to do is to make mashed potatoes and stick pies the next day.
I must say that I got a lot of bagels this time (about 30 pieces) and we ate them for two days. They turned out beautiful and tasty. My husband even took them to work and was very pleased.
And I was very glad that I found an economical and interesting use of a small piece of cheese and ham.
The difficulty of cooking: average
Time for preparing: 1 hour 10 minutes
– ham 150 g
– cheese 150 g
Dissolve sugar and yeast in warm milk.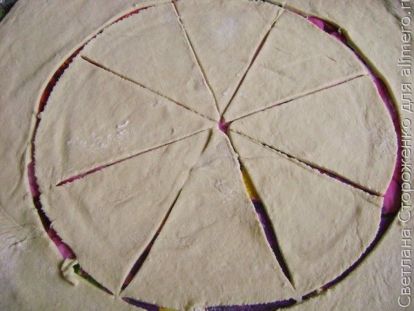 On a large part of the triangle put a couple of pieces of ham and cheese.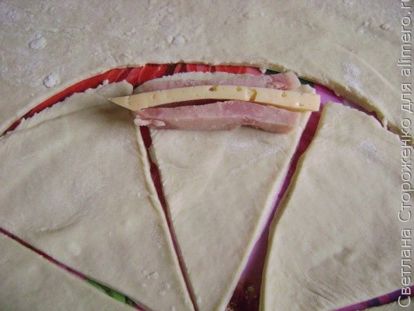 Wrap the horns from the larger edge to the smaller one.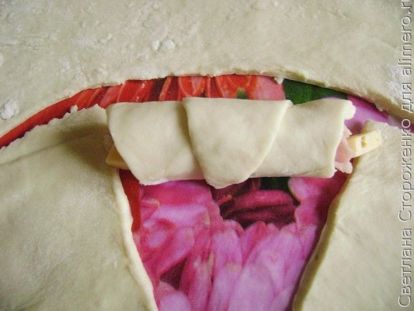 Put our bagels on a baking sheet.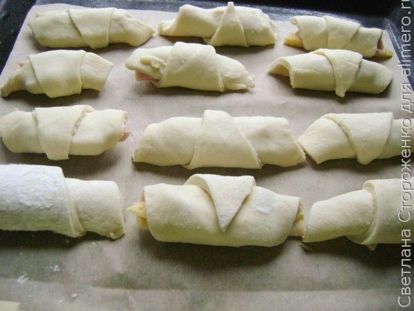 For a beautiful, ruddy crust, you can grease the bagels with egg yolk.
Bake at 180 degrees for 20 minutes.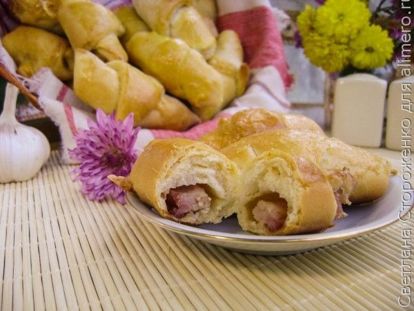 Enjoy your meal!