Many in pursuit of harmony deprive themselves of desserts. It seems to me that most of them are cunning, that they do not need it. Although, I also do not need desserts – shop, and I simply cannot refuse from homemade ones. I try to prepare desserts so that they are not only tasty, but also useful.
Not so long ago, although almost a year had passed, I didn't have a friendship with useful pastry with the addition of flax flour. I will not repeat about the incredible benefits of flax flour for the human body, I think, and so already everyone has heard about it. So! About baking! All the time she made me a raw lump – a waste of cash. And the flour was very difficult to find, and I also scatter it.
I still managed to find ways of introducing a useful product into the family's diet. Today it will be a healthy brine cookie. Such cookies can be made in two versions: rubber like pita pieces (which is an amateur, but I like this option) and crispy like chips. Just imagine – useful chips. It seems to me that such a cookie can be used as a good snack. I just never had to try, disappears, because it only seems. 😉
Cooking cookies very simple. Taking into account the baking of the entire batch of minutes 50.
To prepare healthy brine cookies, you need a very simple set of products:
Wheat flour and flax flour are taken in a ratio of 1: 1, and the brine will need as much as take flour. I needed the specified amount.
Fruit syrup, you can use any that is in walking distance (I use homemade pink syrup), or substitute about 5 tbsp of granulated sugar for sugar. l But the amount of sugar may still depend on the sweetness of your pickle. We have different pickles and in one the pickle is straight sweetie, and in the other it is saltier: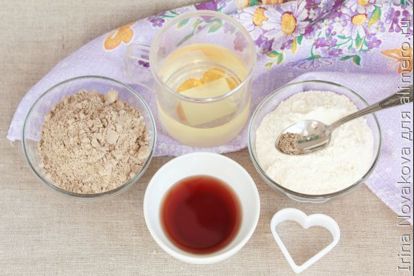 So! Mix both types of flour with ground cardamom and sugar (if you replace the syrup with sugar). Flour, of course, must first sift: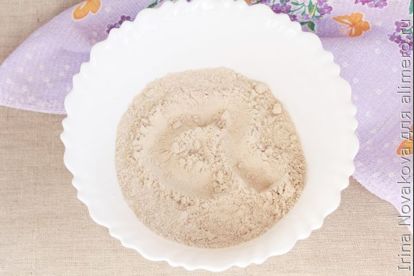 Fruit syrup diluted in a small amount (100 ml) of brine and enter into the flour mixture. Start kneading dough, adding brine in small portions. The properties of flour in all regions are different, because the brine does not immediately add all. Knead the dough, which should not be very tight, elastic and not sticky to the hands. If you are still overdone with the amount of brine, then pour the required amount of wheat flour. Cover the dough with cling film or put in a plastic bag. Let the dough rest for about 20 minutes: