Not all housewives are ready to knead the dough for Easter cake for hours. Many are more inclined to simply buy a cake in the store. But homemade cakes have always been and will be tastier than the purchased ones.
Today I want to tell you about the recipe for cooking simple Easter cake with raisins.
Time for preparing: 2 hours (10-15 minutes for the dough kneading, 5 minutes for setting, the rest for proofing and baking).
The difficulty of cooking: below the average.



Cooking progress:


Prepare a deep cup for the dough. You can take a saucepan or even a salad bowl.
We take a chicken egg and wash it very well, better with soap or another cleaning agent. Egg break into a cup.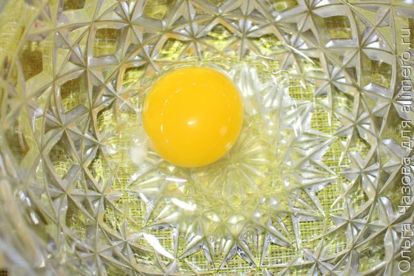 Take the margarine for baking, about 50-70 grams. Cut it into a cube and put in a cup.
Add sugar in the amount of three tablespoons. But if you want your cake to be very sweet, then you can add more sugar. But personally, I do not advise, because raisins will be in the cake, and he will also give the product a sweet taste.
Now add vanilla. Vanillin need very little – at the tip of a teaspoon. Vanillin we need only for the smell. If you do not have vanilla, you can do without it.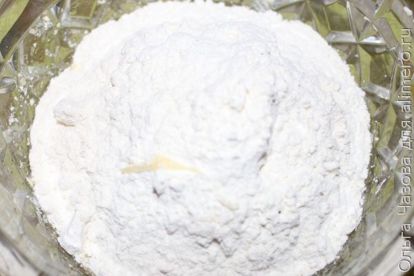 Now add dry instant yeast in the amount of 3 grams. This is about half a teaspoon.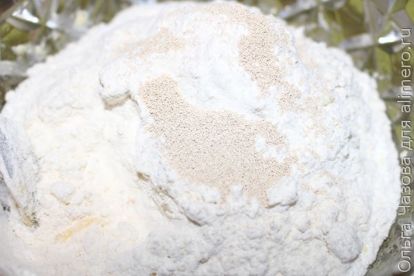 We mix all ingredients. Add water – as much as take the dough. We mix it very well.
Take the raisins. We touch it from possible spells. We remove all the stalks, which are often caught. Then wash the raisins first with running cold water, and then pour it with boiling water so that it becomes soft. After 3-4 minutes, drain the water. And add our berries in the dough.
Rinse the dough well, try to distribute the raisins more evenly.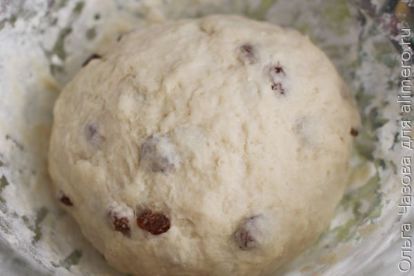 Now we leave our dough on the table, covering it with a lid so that it rises. In 30-40 minutes the dough will rise, and it will need to be kneaded again.
Now we take the form for the cake. I have this paper backing from the store. We form a ball out of dough and put it into shape.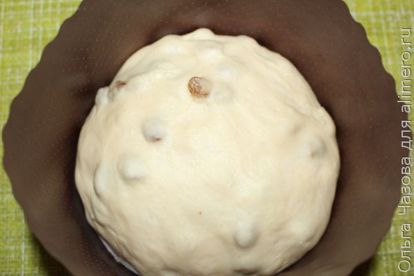 Let the dough stand for 20-30 minutes. During this time, it should almost double.
Turn on the oven 180 degrees. We put there our cake. Bake it for 30 minutes. Take out.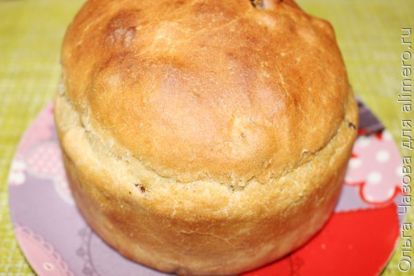 Cover the cake with a towel and let it cool.
At this time, preparing the icing. I decided to use dry ready-made glaze from the store. We part it in 2 tablespoons of water or milk.
Apply the icing on the cooled cake. And on top we sprinkle with sugar colored decor.
That's all, our Kulichik is ready, bon appetit!