Rolls of pita I love. First, such rolls can be cooked with absolutely different fillings, fantasizing on this subject ad infinitum. So ideas here may never end. Secondly, they prepare quickly and easily. Thirdly, they are tasty. Well and, fourthly, such pita breads from pita can be cooked not only for dinner with the family, but also for a festive table. And it is convenient to take it to work as a snack.
In general, some solid pluses. So let's make a simple and tasty roll of pita with eggs, crab sticks, salted cucumber and Peking cabbage, which, by the way, adds juiciness to the roll.
Complexity – everything is very simple
Time for preparing – 10 minutes to fully assemble the roll (provided that the eggs are already cooked)
How to make a roll of pita:

So, pita bread leveled on the table, drew a grid of mayonnaise. I have a huge sheet of pita, it takes almost the entire dining table 🙂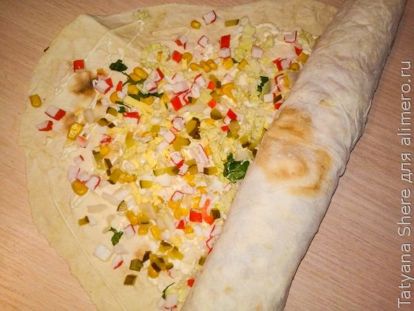 I didn't salt stuffing – I had enough salt from mayonnaise and pickled cucumber.
Left the roll in the refrigerator soak for half an hour. You can leave it for more time.
So ready juicy, simple and tasty roll of pita with crab sticks!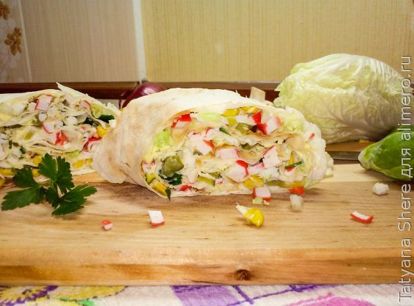 Enjoy your meal!