Outside the window, the height of summer. Heat. The happiest people go to the seas, the rest are saved under conditioners, eating cold ice cream, drinking kvass and lemonade.
But my love for homemade sweet pastries is able to withstand any test, including climatic. I like to eat something delicious with a cup of tea.
Therefore, rummaging once again in a book with culinary recipes, I stopped at the lush, crunchy bagels.
In general, the proportions of ingredients for this baking were impressive. My mother prepared them for a large family, with a reserve. I reduced all proportions by half, and it turned out a lot of bagels.
But we ate them quickly. I also treated my daughter's friends, who were happy. Well, what children do not like sweets, and especially homemade, exclusively from natural products?
Ingredients for cooking:
Short cooking version:
Previously, I cooked condensed milk. She put both cans into a deep saucepan and set 2-2.5 hours to boil on the fire. It turns out boiled condensed milk. Let it cool.
1. On the water bath we melt margarine
2. We sow the flour in a deep bowl, add the cooled melted margarine, slightly grind it into the crumb.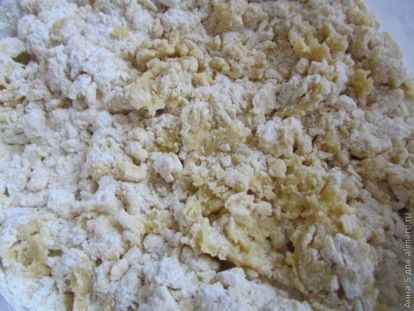 3. Add sour cream. Knead the dough.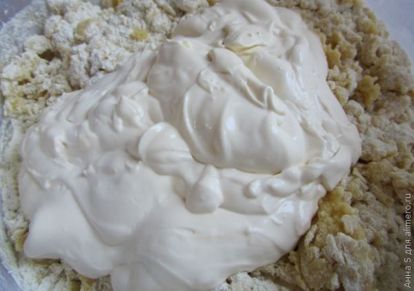 4. Add quite a bit of flour so that the dough just lags behind the hands. Here we have such a big ball. Wrap it in cling film and send it in the fridge for 1-1.5 hours.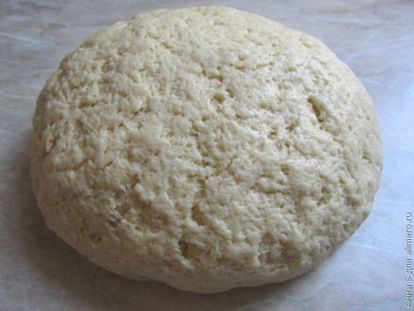 5. After 1.5 hours we get our dough. It has become harder. For convenience, we divide it into several small parts.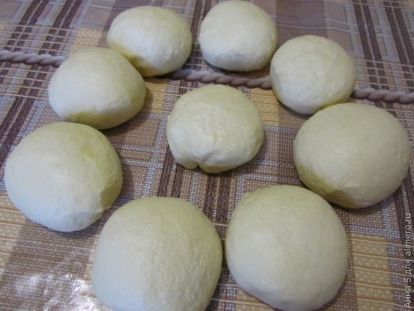 6. Each ball is thinly rolled out. Although the dough is fatty, while I did almost no flour. But if necessary, you can pour a little bit to make it easier to roll.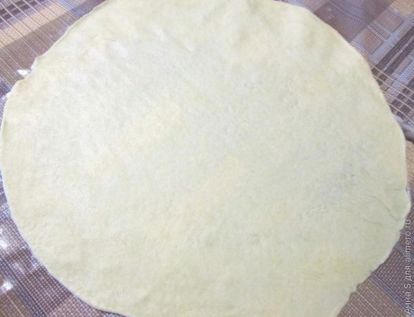 7. Cut the circle into triangles. To do this, we cut it first into four parts, and then each another into 2-3 triangles. Make them wider so that you can put more stuffing.
When I cut the first circle, some of the strips turned out to be narrow, the next layers I already divided into wider ones.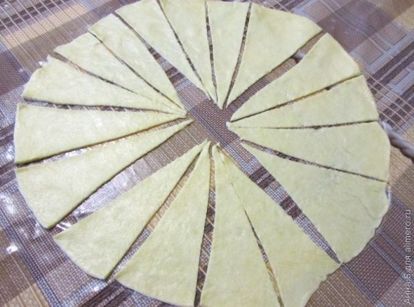 8. Spread boiled condensed milk on each triangle with a spoon.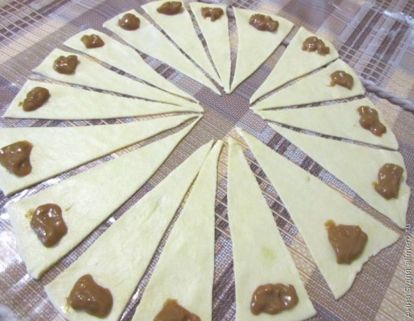 9. I want to emphasize: put the condensed milk in the center of the reservoir so that you can wrap the edges, press them tightly. Otherwise, the filling will leak out when baking, and it will also burn.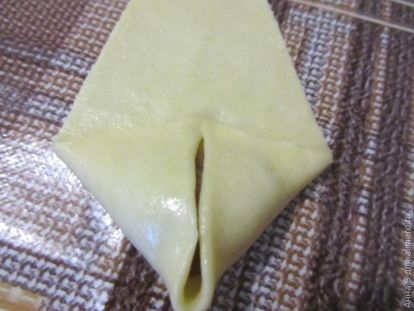 We twist in a tubule from the wide part to the narrow.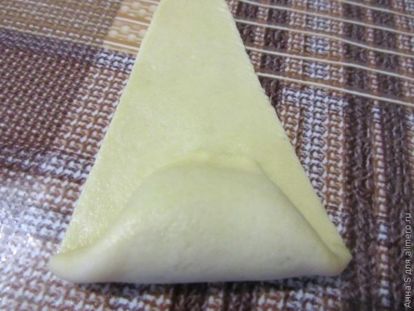 It turns out that's such a croissant.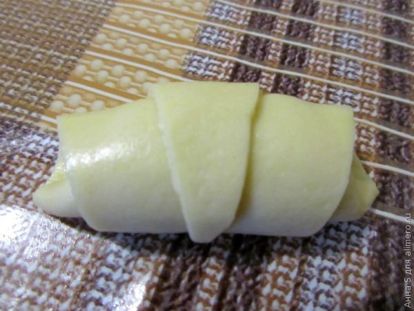 10. On a baking sheet covered with baking paper, lay out the bagels. Sprinkle them with sugar. Sent in the oven, preheated to 200 degrees, until golden brown. I got about 20-25 minutes. It depends on the oven.

Our lush, crunchy bagels with condensed milk are ready. A great addition to a cup of tea, coffee or milk. To be honest, they are eaten like seeds, especially when they are hot.