Such mini fish skewers look great on any table, be it festive or everyday. Vegetables can add any that is in the refrigerator. For this dish is suitable fish of medium fat and oily, such as rasp, sole, and so on.
So that the fish on the skewer turned out juicy, it is desirable to keep it in sour cream or kefir (this is my omission, so my kebab turned out a little dry).
Time for preparing: about 60 minutes.
Degree of difficulty: minimal.
For cooking fish with vegetables on a skewer we will need:


Cooking method:


Fish cleaned of viscera and divided into fillets.
If you take a ready-made fillet, then this is a winning option, not so troublesome in time.
Fillet salt and pepper to taste. If there is kefir or sour cream, you can pour the fish and leave it to pickle for a while, this will give the fish juiciness. I thought about this method too late, so I stood the fish for 20 minutes, missed only with salt and pepper.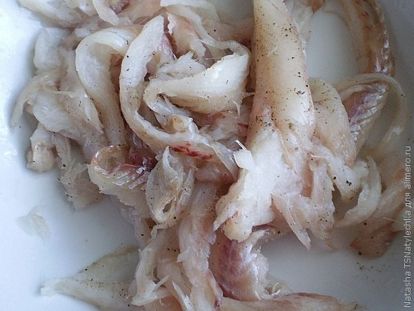 Cut the tomatoes into circles about 1 cm thick.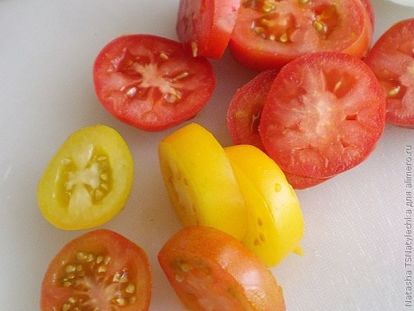 Onions cleaned and cut into slices, too, about 1 cm thick.
If there are other vegetables available (paprika, eggplant), then we also cut them into circles.
We take wooden skewers (sold in packs of 30 pcs.).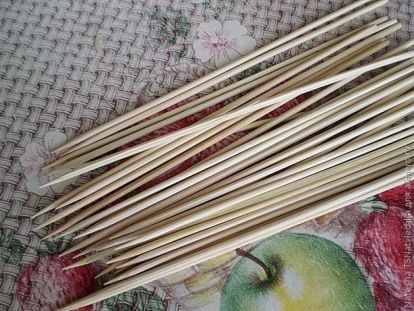 And string, alternating, tomato, onion, a piece of fillet, onion, tomato, fillet. The order of the product can be changed at its discretion.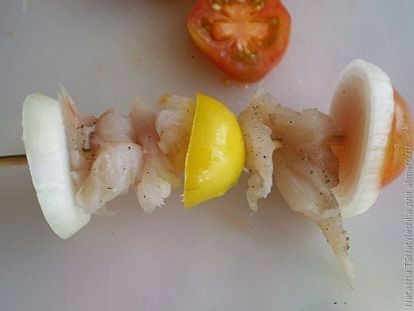 So do with all the fish and vegetables.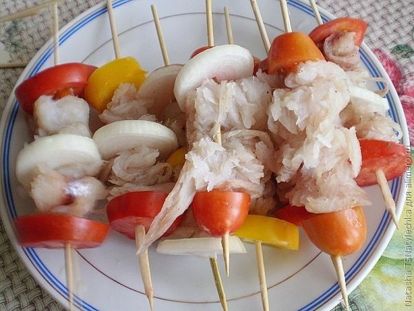 Grease a baking tray with butter and lay out mini skewers. We send for roasting in the oven for 30 – 40 minutes (depending on the thickness of the fish pieces) at a temperature of 180 degrees.
Put the finished skewers with fish and vegetables on the dish.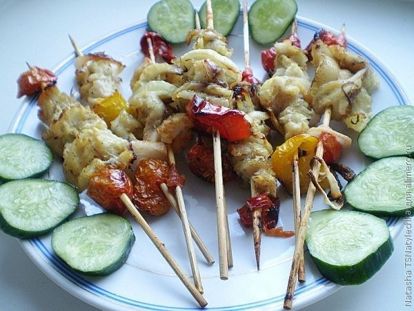 Serve to the table, decorated with greens and fresh vegetables.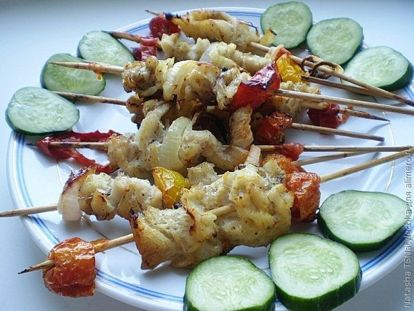 Bon appetit to you and your loved ones.