If only I could describe the taste of the dish like a real writer! But I am not at all Marinina and not even Daria Dontsova. I will try to describe the taste myself: the meat of the fish turned out to be very tender, the obvious taste of sour cream, as well as other ingredients, you will not feel, but all together, they make an unimaginably tasty result.
I come from a family where everyone is somehow addicted to fishing and hunting. Someone more, someone less, but in the end, in the freezer, I always have fish. What are some ways I did not cook: fried, baked, pickled, salted, boiled. I don't even want to talk about marinades and cooking details.
But, it seemed to me that I had never cooked a fish in sour cream. My aunt Tanya just brought a great carp from fishing. You can see what came out of this venture only in the photo, but you can take my word for it, the dish was very tender, juicy and original.
To prepare you will need:
Time for preparing: 40 minutes.
Fish giblets, cut off the fins, head and tail. Baking tray is covered with foil. We spread the fish on it.
Onions cut into a circle, distribute it inside the fish. Sprinkle with salt and pepper.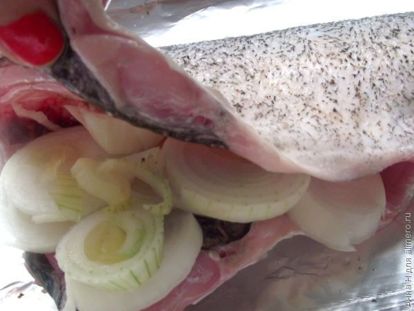 Prepare sour cream fill. To do this, mix sour cream, mustard and soy sauce in a plate. Stir until smooth.
Dill finely chopped, add it to the sauce.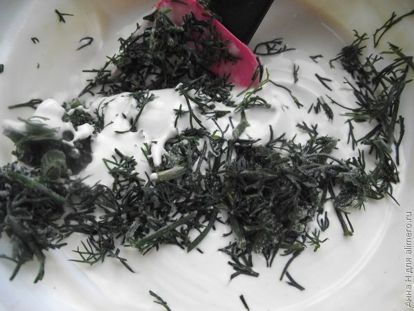 Liberally grease the fish with the resulting sauce.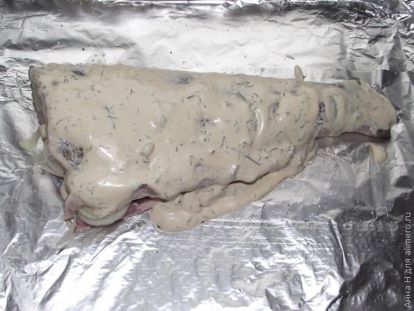 I had potatoes as a side dish. We boil it up to almost complete readiness, cut it in halves. Each piece pour a teaspoon of sauce.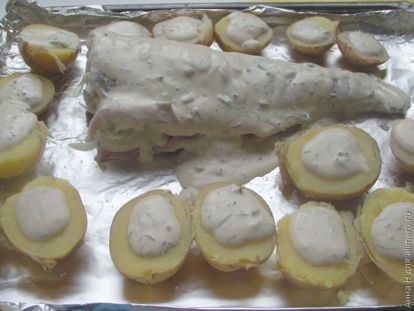 Sent in the oven for 30 minutes. Temperature – 180 degrees. For a brown crust, we increase the degree to 200 for the last 5 minutes of roasting.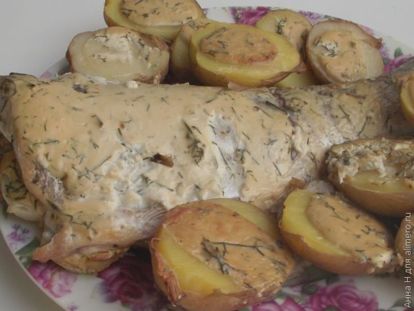 Serve hot. I wish you a pleasant tasting!