This weekend I terribly wanted fish! I went to the store, still not knowing that I would cook from it. The only exact decision that I had was to buy fillets this time, so as not to spend a lot of time cleaning fish from all unnecessary.
My choice this time fell on hake. Took his fillets in the glaze (ice freezing). And although the manufacturer assured that the proportion of glaze does not exceed 5%, this turned out to be completely different.
If you trust the inscriptions on the package, then the net weight with ice is 800 g, and without it – 760. Actually, I understood that there could be no question of any 40 g. Still, I saw through the transparent package a layer of glaze, not blind! I was not even too lazy and weighed after defrosting. Total – 600
One thing is good – this observation did not prevent me from enjoying either the process of preparing the intended dish, or the process of eating it;) And I conceived the fish in the dough!
Fillet (in 600 g I got 6 halves) completely thawed, washed under cold water. I dried them with paper napkins (I used 1 piece per one half), but without fanaticism, otherwise the fish would turn out too dry and tasteless.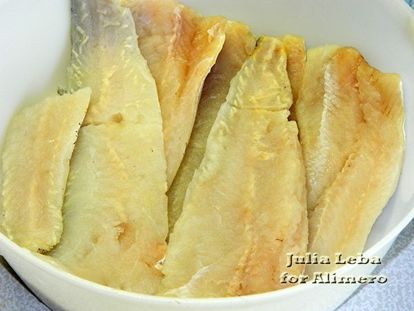 To the heku I ground the basil, red and white peppers, added dried parsley and salt. I rubbed the pieces and left it for 30-40 minutes.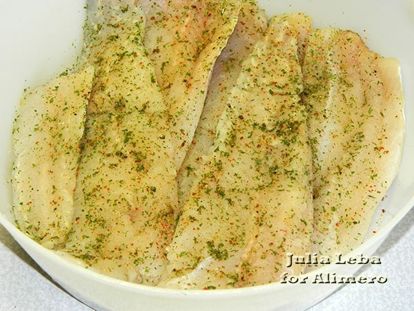 The dough (2 layers of 250 g each) thawed out beforehand. Each layer is divided into 3 parts.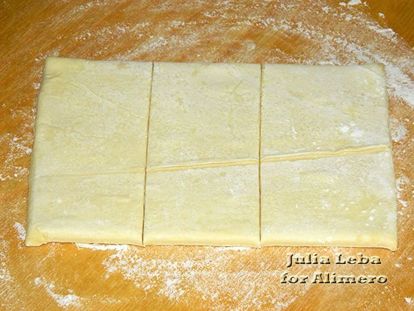 Roll out the first piece in the form of a fillet (on top a little wider, down to the tail, narrower). Laid out on him fish.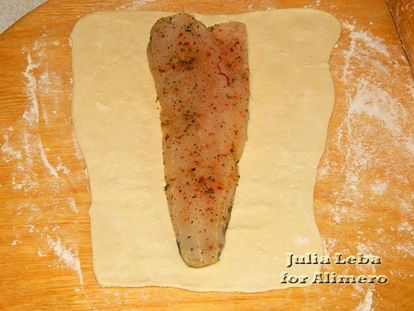 Smeared 1 tsp. tomato paste.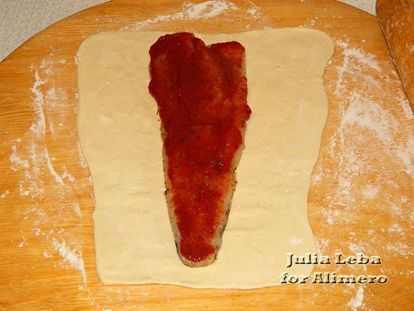 Onion cut half rings and laid out on a layer of pasta.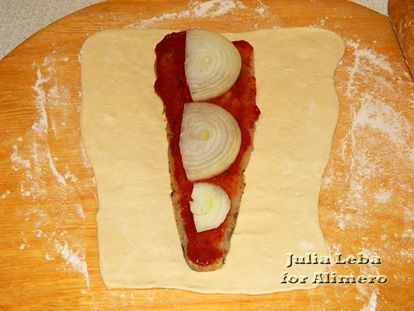 The loose dough cut the noodles in increments of about 0.7 cm. The dough strips were alternately wrapped onto the fish from above, positioned crosswise.
I started from the tail, I liked the woven pattern more 🙂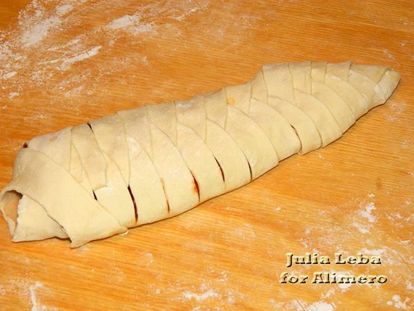 The same operation was repeated with the remaining fillet pieces.
Laid out on a baking sheet, greased with sunflower oil.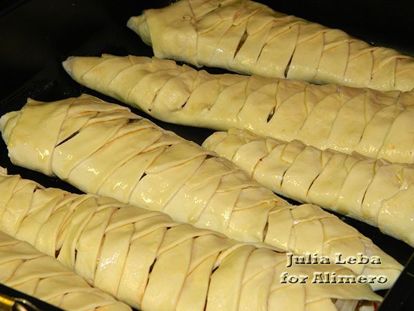 Top dough too greased with butter.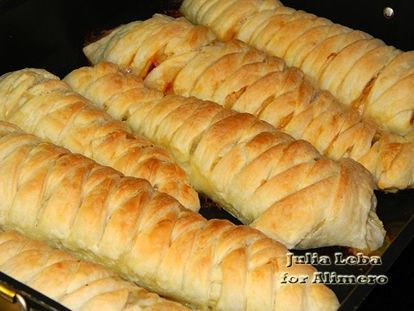 Sent in preheated to 200 'oven. Since a whole hake at 180 'can be baked for 35 minutes, then for half fillets in dough at a higher temperature, 25 minutes is enough.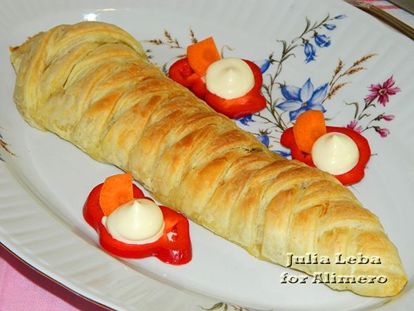 The dish turns out tasty and nourishing! One such fish can make a full lunch or dinner;)