Girls, presenting this recipe to your attention today, I can safely say that it is just wonderful! Firstly, the proposed dish is very fast and easy to prepare, secondly, not very financially costly, thirdly, it turns out to be very dietary and at the same time quite satisfying, but the most important thing is that it is incredibly tasty!
To cook this dish, I had to buy only fish fillets (you can even cook carp) and zucchini – everything else (a piece of cheese, some sour cream and dill) was found in the fridge.
And given the fact that young zucchini in the markets is already more than enough, and they are sold at a very affordable price, then, by and large, only had to spend money on fish.
Well, if the ingredients stay in more detail, then for this dish I used:
Degree of difficulty: easy enough
Time for preparing: about 35 minutes
Already thawed fish fillets are poured with special spices, rubbed with them and leave for a while, until we deal with the other components.

Zucchini washed and cut into small rings, you can slightly diagonally.

Spread zucchini rings overlap on the parchment, smeared with butter, in two rows (by the number of fish fillets).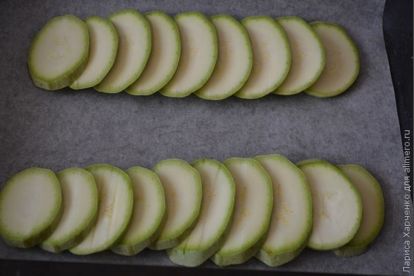 We combine in a separate platter grated on a small terke cheese, chopped dill and sour cream.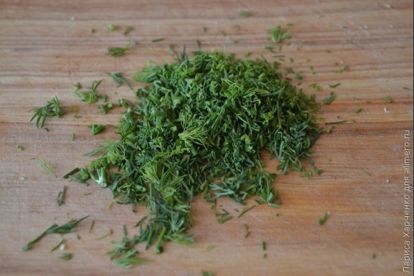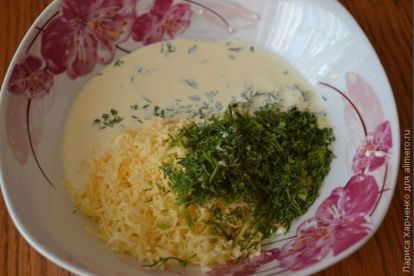 We spread fish fillets on the paths of squash rings, which are generously lubricated from above with a reinforcing mixture of greens, cheese and sour cream.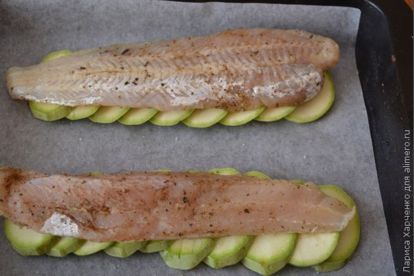 Here in this form we send everything to the oven preheated to two hundred degrees.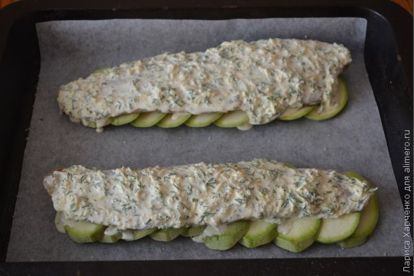 After 15-17 minutes, our dish will be appetizing rosy – this is a sure sign that it is time to remove it from the oven and spread it on the dish.